a
Defense Industry News - USA
Raytheon achieves delivery and operational milestones on F/A-18 avionics systems
Raytheon Company has achieved important milestones on three F/A-18E/F related programs, highlighting the company's ongoing, successful support of the Super Hornet aircraft.

Raytheon recently delivered the 300th APG-79 active electronically scanned array (AESA) radar to Boeing for integration on F/A-18E/F Super Hornets and EA-18G Growlers. Raytheon has also delivered the 600th ALR-67(V)3 radar warning receiver, marking six years of continual on-time delivery of that system. Additionally, Raytheon's Advanced Targeting Forward Looking Infrared (ATFLIR) pod has reached 1 million F/A-18 operational flight hours.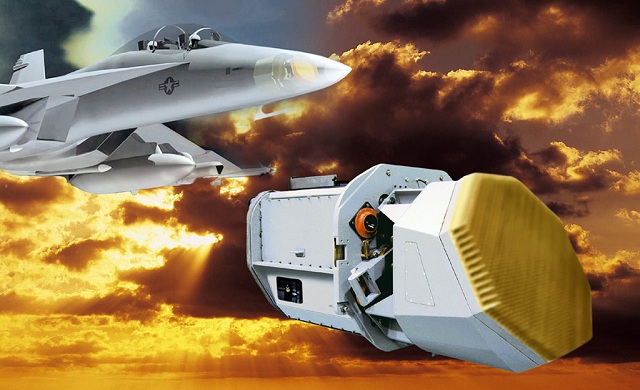 F/A-18 E/F Super Hornet AN/APG-79 AESA radar
(Image: Raytheon)
"Raytheon radar, electronic warfare and targeting systems are integral components to the success of the Super Hornet, and we are proud of the long history of performance we have demonstrated with the platform," said Mark Kula, vice president of Tactical Airborne Systems for Raytheon's Space and Airborne Systems business. "Raytheon understands the unique challenges represented in building systems for carrier-based aircraft, and we incorporate that knowledge into every product we develop for the F/A-18."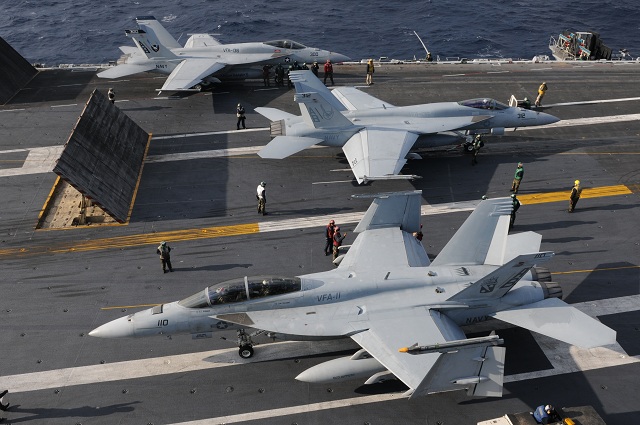 Two F/A-18E Super Hornets assigned to the Knighthawks of Strike Fighter Squadron (VFA) 136 prepare for a catapult assisted launch as an F/A-18E Super Hornet assigned to the Red Rippers of Strike (VFA) 11 taxis toward the aft of the aircraft carrier USS Enterprise (CVN 65).
(U.S. Navy photo)
Raytheon fielded the world's first operational AESA radar in 2000 and is the only manufacturer with combat-proven AESAs in production for tactical aircraft today. In operation on the Super Hornet since 2007, the APG-79 provides far greater performance and reliability than mechanically scanned array radars.
The ALR-67(V)3 is the U.S. Navy's standard for radar warning receivers and is an integral part of the Super Hornet's electronic warfare self-defense system, giving pilots unmatched situational awareness against potential enemy threats. Earlier this year, Raytheon was awarded a $77 million contract modification to deliver ALR-67(V)3 systems to the Navy as part of full-rate production Lot 14.
The ATFLIR pod delivers all-weather pinpoint accuracy and reliability for air-to-air and air-to-ground mission support, enabling aviators to perform their missions in the harshest conditions with maximum efficiency and security. Its plug-and-play performance allows for easy installation and seamless operation, for enhanced interoperability with coalition forces.