a
Naval Forces News - USA
US Marine Corps F-35B Joint Strike Fighter conducts first aerial refuel
In the sky above the Gulf of Mexico near Eglin Air Force Base, Fla., the future of Marine aviation punched through the warm Florida air Oct. 2. F-35B Joint Strike Fighters with Marine Fighter Attack Training Squadron 501 from Eglin conducted the first air-to-air refuel of an operational aircraft in the program's history. Previous aerial refueling operations with the F-35 had been conducted with test aircraft.

Four Joint Strike Fighters, two at a time, on two separate sorties, took fuel midair from a KC-130J Hercules from Marine Aerial Refueler Transport Squadron 252 based at Cherry Point.

Both aviation platforms belong to the 2nd Marine Aircraft Wing, the Marine Corps' East Coast aviation component. VMFAT-501 wields the only F-35Bs in the Marine Corps. As the newest aircraft in the American military, the F-35 represents the cutting edge of aviation warfare. The Joint Strike Fighter's capabilities include stealth technology, vertical and short take off and landing, electronic warfare, and a new helmet interface that displays all of the pilot's data internally and allows for 360-degree views of the aircraft.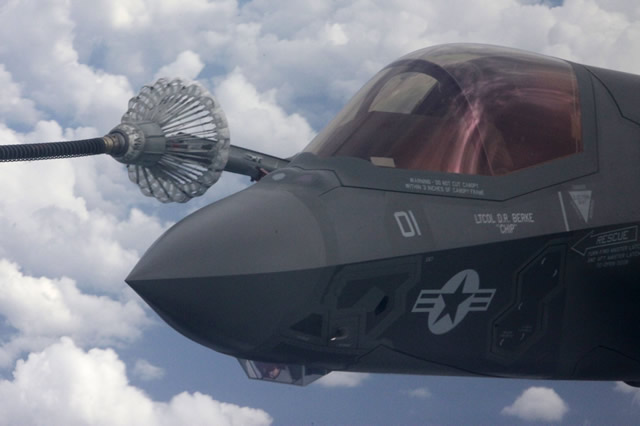 F-35B Joint Strike Fighters with Marine Fighter Attack Training Squadron 501 conduct aerial refueler training with a KC-130J Hercules with Marine Aerial Refueler Transport Squadron 252 Oct. 2in the sky near Eglin Air Force Base, Fla. It was the first time an operational Joint Strike Fighter had conducted air-to-air refueling. (Photo by Cpl. Brian Adam Jones)
Leaders in the F-35 community said the Oct. 2 training mission represented an important step for a program that promises to improve the Marine Corps' ability to serve as America's expeditionary force in readiness.

"It's great to start to expand our operational capability in the context of working with the Marine Air-Ground Task Force," said Lt. Col. David Berke, VMFAT-501 commanding officer.

Aerial refueling operations like the one conducted in Florida are a mainstay of Marine aviation and occur regularly in war zones like Afghanistan. The ability for aircraft to gas up without having to land increases the scope and range of Marine aviation operations.

"Almost every combat mission that happens in the Marine Corps involves aerial refueling," said Maj. Paul Holst, one of the F-35B pilots on the mission. "We just demonstrated that we can do that, so we're now one step closer to this airplane being operational. We're doing exactly what we came here to do."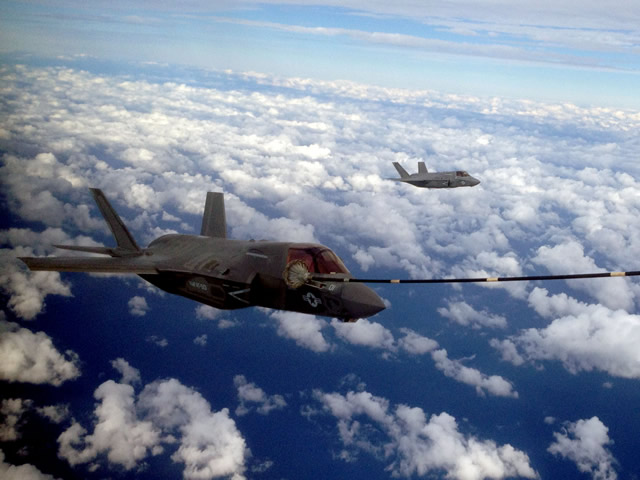 F-35B Joint Strike Fighters with Marine Fighter Attack Training Squadron 501 conduct aerial refueler training with a KC-130J Hercules with Marine Aerial Refueler Transport Squadron 252 Oct. 2in the sky near Eglin Air Force Base, Fla. It was the first time an operational Joint Strike Fighter had conducted air-to-air refueling. (Photo by Cpl. Brian Adam Jones)
For one KC-130J pilot on the mission, the landmark training operation with the F-35 was the first aerial refuel of her career. Capt. Courtney Slafter served as the co-pilot for the mission. A former CH-46E Sea Knight Pilot who switched to KC-130Js within the last year, she found herself on the precipice of the future of military aviation in the sky above Eglin.

"To be a part of the first aerial refuel of the Joint Strike Fighter is exciting," Slafter said. "But to me, the resonance lies in the amount of pride our squadron takes in the missions we are assigned. The resonance lies in our ability to fly halfway across the country to execute this mission and fly back the same day."

The enlisted crew on the KC-130J described the mission as typical for the squadron. The behemoth aircraft play an instrumental role in the Marine Air Ground Task Force, conducting refueling operations, cargo and passenger transport, battlefield illumination and close air support.

"It was great to see the F-35 up and in the early phases of their operations," said Sgt. Shawn Parks, a crewmaster with the KC-130J. "I was taking a good look at it since I had never seen one up close before, but besides that, it was business as usual for us today."

But the mission represented more than a routine operation for a KC-130J Hercules. The two aircraft coming together from duty stations more than 600 miles apart underscored how Marine aviation harnesses the capability to project power anywhere in the world.

"We proved that capability is not just accessible, but that our guys are well trained to do it," Berke said.

By Cpl. Brian Adam Jones | Marine Corps Air Station Cherry Point