a
Naval Forces News - Israel
IAI upgrades its Maritime Heron 1 (Shoval) UAV for Israeli Navy
Israel on Sunday unveiled an enhanced unmanned aerial vehicle (UAV) for maritime and air surveillance that allows faster and more precise identification of objects.

The drone, called Heron 1 (Shoval), will help improve Israel's Naval and Air Force's recognition of unknown or hostile ships and aircraft even if they are 300 km away, with a radar that can reach Turkey, Cyprus or Egypt.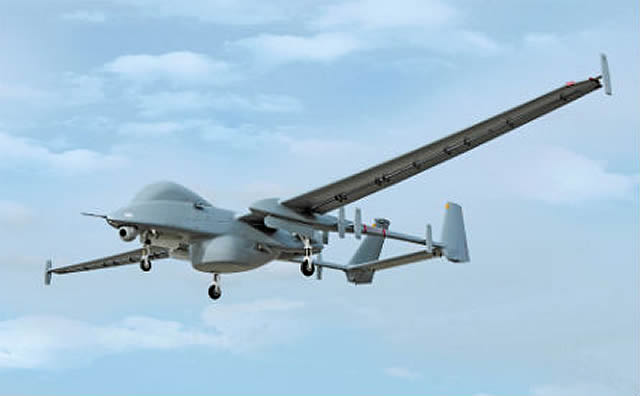 IAI Maritime Heron 1 (Shoval) UAV
These upgrades on the Shoval drone were showcased by the Israel Aerospace Industries (IAI), Israel's prime aerospace and aviation manufacturer, Ynet News site reported.
"The system can inquire and intercept any object within just a few minutes," an IAI official told the newspaper on Sunday, after the Shoval drone had concluded a demonstration in which the new cameras captured every detail of a ship sailing the Mediterranean.
"The Shoval has satellite communication abilities, which means any footage it takes will be broadcasted online to distant location like Paris," the official said.
(Video: IAI)
The older model, officials said, had only one camera on its bottom and its radar did not have such long-range. The upgraded Shoval will help Israel identify any suspicious vessel, cargo or aircraft on the Mediterranean.

IAI unveiled the new Shoval drone only a week after a Israel's Air Force jets shot down a rogue drone that entered southern Israeli airspace, apparently in an attempted surveillance mission.

Hezbollah claimed ownership of the drone a few days later, stating that its reconnaissance mission over Israel had been successful.

The drone penetrated into Israel's airspace from the Mediterranean Sea near the Gaza Strip. A fighter jet fired two missiles at the drone, the second one shooting it down over the northern Negev desert.

Xinhuanet