a
Naval Forces News - Norway
Royal Norwegian Navy fires NSM missiles from Skjold class corvette and Nansen class Frigate
(Video: Royal Norwegian Navy)
Produced by Kongsberg, the Naval Strike Missile (NSM) is an autonomous, long-range, precision missile designed to engage high-value, well-defended targets at sea and ashore. The NSM is the only 5th generation long range precision strike missile in existence today. The missile combines unsurpassed penetration capability due to "low observable" shape, super sea skim, high-G random maneuvers and I3R (intelligent imaging infra red) seeker with Autonomous Target Recognition (ATR) providing programmable hit-point and optimized fuze-setting,

"We have spent a long time to prepare for this launch and have always had safety in mind. We kept quiet until the countdown began, but then we felt the pulse rise" said HNoMS Glimt captain, Lieutenant Commander Daniel Karlsen.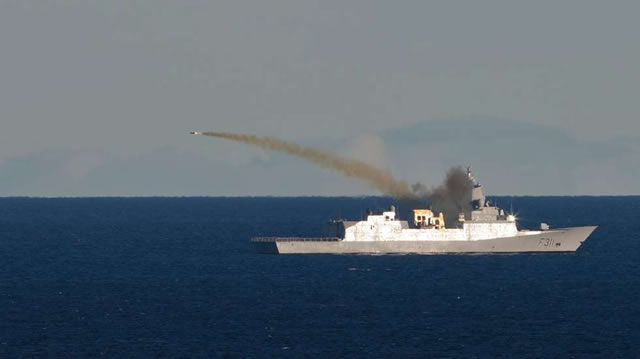 A Naval Strike Missile (NSM) anti-ship missile is launched from HNoMS Roald Amundsen
(Picture: Royal Norwegian Navy)
Designed and built by Umoe Mandal, the Skjold class corvette is engineered for littoral combat and surface operations in coastal waters. While light in displacement (274 tonnes) the Skjold class are armed like a frigate ship, present many stealth features and are capable of high transit speeds. While they should be classed as Patrol Boats, the Royal Norwegian Navy officially label them as coastal corvettes.
The Fridtjof Nansen-class frigates are the main surface combatant units of the Royal Norwegian Navy. The frigates are equipped to fight in all the maritime warfare areas, anti-aircraft, anti-surface and anti-submarine. The last of five frigates was handed over to the Royal Norwegian Navy in January 2011.