a
Naval Industry News - France, China
Helicopter & VTOL UAV Landing grids: DCNS wins new orders in China
DCNS has been awarded two new contracts for landing grids compatible with helicopters and rotary-wing unmanned aerial vehicles. The grids will be installed on two new patrol boats under construction for China Marine Surveillance.

Time for CMS, one of China's coastguard agencies, to turn to DCNS. China Marine Surveillance has launched a programme to build seven 1,500-tonne offshore patrol vessels, at least two of which will be equipped with DCNS landing grids. Delivery is scheduled for early 2013. This sale brings the number of DCNS grids sold in China to 11.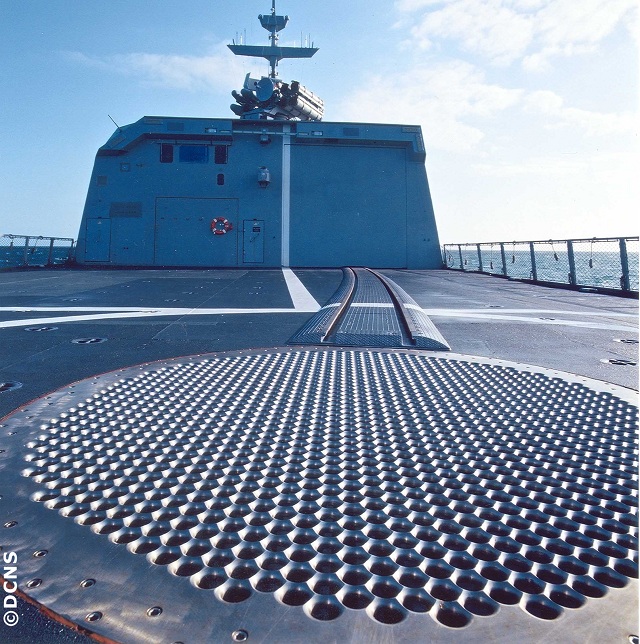 DCNS landing grid on a French Navy's Lafayette frigate
(Picture: DCNS)
While confirming the Group's presence in naval defence on all continents, this order strengthens its leadership on the highly competitive market for this type of product. Over the course of their 40-year history, DCNS landing grids have become benchmark products for the group's 28 client navies and coast guards. The first order was booked in 1971 following the launch of the Franco-British Lynx helicopter programme. Since then, the product has gone from strength to strength, even in such challenging markets as the US public sector. Since 1991, the US Coast Guard has chosen DCNS grids for 51 of its vessels.

"We are proud that China Marine Surveillance has chosen to equip its new ships with DCNS landing grids," says Georges Thiery, general manager of DCNS's Nantes-Indret centre. "The different types of landing grids machined at the Nantes-Indret centre from stainless steel blanks are designed to meet our customers' needs and to outlive their ships' working lives. We constantly improve all our products in response to our customers' evolving needs. Like other customers, CMS plans to use its grids with both lightweight unmanned aerial vehicles and helicopters carrying payloads that are growing heavier as their ships get lighter."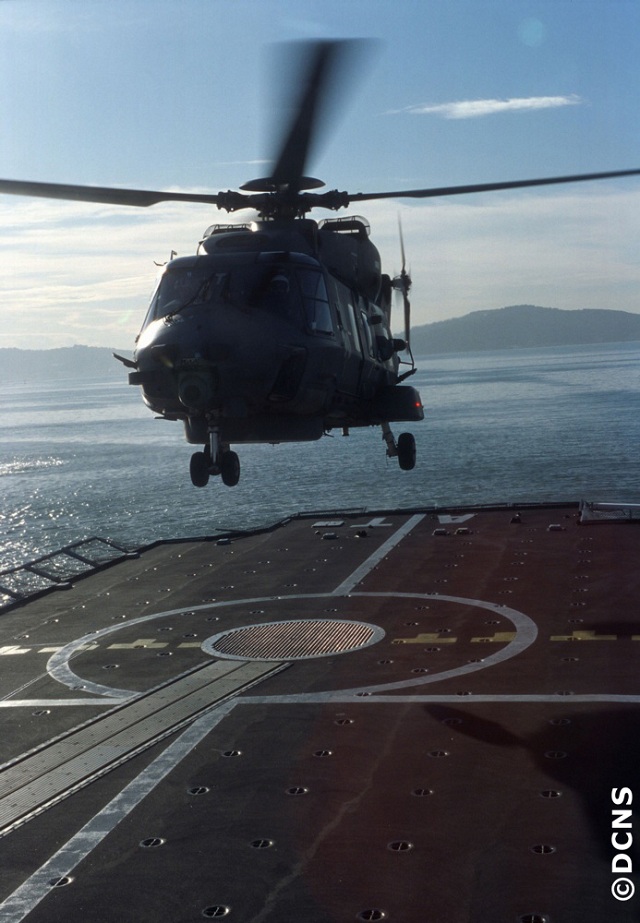 French Navy NH90 about to touch down on the Aconit frigate's landing grid
(Picture: DCNS)
Landing grids are critical components for every helicopter or UAV take-off or landing by as it is their job to quickly secure the aircraft to the flight deck. DCNS landing grids also expand the range of weather conditions and sea states in which flight decks can be used. In a word, they ensure the safety of the ship, the aircraft and their respective crews.

Landing grids are advanced technology products. Before they can be installed, the equipment definition file and its justification must be validated by an independent entity (e.g. Bureau Véritas) to ensure that the specifications for mechanical stress, fatigue and shocks under the specified environmental conditions meet the relevant requirements. It requires advanced expertise in metallurgy as well as proven supply chain management and quality assurance to certify that every grid blank meets the highest specifications. DCNS uses this expertise in all these areas to ensure that the grid/harpoon interface is precision machined to the design's exact requirements. DCNS also has advanced expertise in materials qualification testing to ensure that the corrosion resistance of the protective coatings applied to each grid guarantees the highest performance throughout the ship's useful life.