a
Naval Forces News - USA
U.S. Navy Christens Future USS America (LHA 6), first of the America-class amphibious assault ships
The newest amphibious assault ship America (LHA 6) was christened Oct. 20 at a ceremony in Pascagoula, Miss. "When America joins the fleet, we'll be a stronger, more flexible, and a better Marine Corps team. We need this ship," said Vice Chief of Naval Operations Adm. Mark Ferguson during the ceremony.

The 844-foot ship will be a flexible, multi-mission platform necessary to quickly respond to incidents worldwide and provide forward presence and project power as part of joint, interagency, and multinational maritime expeditionary forces.

America also marks the first of the Navy's newest class of amphibious assault ships replacing the Tawara class. It is considered to be the next generation "big-deck" amphibious ship. The new ship will be more capable to support current and future aircraft such as the tilt-rotor MV-22 Osprey and Joint Strike Fighter.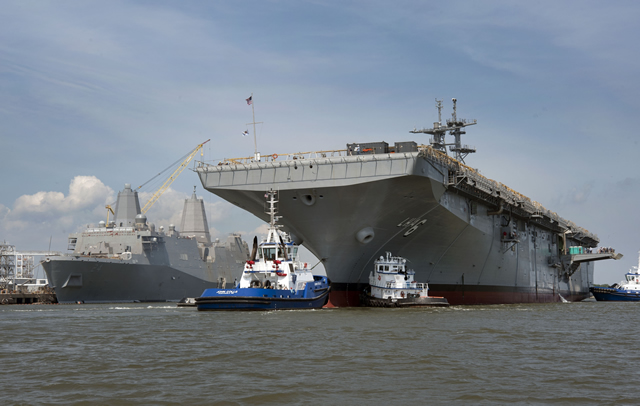 PASCAGOULA, Miss. (June 5, 2012) Tugboats guide the amphibious assault ship Pre-Commissioning Unit (PCU) America (LHA 6) to her berthing place at Ingalls Shipbuilding. The Ingalls-built amphibious transport dock ship Pre-Commissioning Unit (PCU) Arlington (LPD 24) can be seen in the background. America will be christened Oct. 20.
(U.S. Navy photo courtesy of Ingalls Shipbuilding/Released)
"It's kind of like a mini-aircraft carrier," said Lynne Pace, the ship's sponsor prior to breaking a bottle of champagne over the bow.

As an amphibious ship, its mission will include embarking, transporting, controlling, inserting, sustaining and extracting elements of a marine air-ground task force, and support forces by helicopters and tilt-rotor aircraft.

"To the crew, you are charged with a very special responsibility between now and the commissioning of this ship. You will set the standard of excellence. You will set the personality," Ferguson told the ship's crew.

This is the fourth ship in Navy history to be named America. The first was a 74-gun ship-of-of-the-line that was used by the Continental Navy that was then presented to the king of France as a gift in appreciation for his country's support to the new nation. The preceding America was a Kitty-Hawk class aircraft carrier that played key roles between the Vietnam War and Operation Desert Storm.

Ingalls Shipbuilding in Pascagoula, Miss., laid the keel in July 2009 and plans to deliver the ship in 2013 after conducting a series of sea trials.

The USS America will be homeported in San Diego.

By Ensign Darius A. Radzius, Navy Office of Information