a
Naval Forces News - USA
US Navy tests New expeditionary RQ-21 Tactical UAV at China Lake
The US Navy successfully launched its newest small unmanned aircraft without using a runway Sept. 10 at Naval Air Weapons Station China Lake, Calif. A little more than two years into its engineering, manufacturing and development phase, the RQ-21A Small Tactical Unmanned Air System (STUAS) entered developmental test at China Lake, beginning with a 66-minute flight Monday.

During the initial developmental flight test at the weapons station, operators flew the RQ-21A using a unique pneumatic launcher and a recovery system known as Skyhook. This system, developed by Insitu, Inc., eliminates the need for runways and enables a safe recovery and expeditionary capability for tactical missions on land or sea.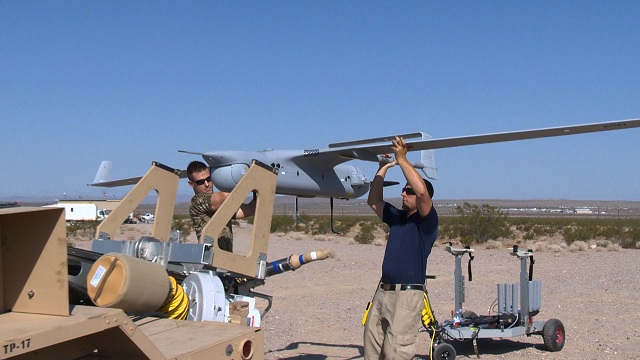 Navy and Insitu personnel lift the RQ-21A Small Tacticall Unmanned Aircraft System(STUAS)onto launcher in prepartion for flight at Naval Air Station China Lake, Calif. Sept. 10. (U.S. Navy Photo)
"The flight at China Lake marks the start of a new test phase for RQ-21A STUAS, the first expeditionary, multi-intelligence UAS in its class," said Col. Jim Rector, STUAS program manager (PMA-263) at Patuxent River, Md. "Developmental test will be fast-paced, like the rest of the program has been. We are on track for initial operational capability in 2013."

Sailors and Marines from from Air Test and Evaluation Squadron (VX) 30 at China Lake are not the first to experience the expeditionary "no runway" solution. Three hours southeast of the base, Marines at Twentynine Palms are already training with an RQ-21A Early Operational Capability (EOC) system. The CONUS-based deployment allows the Navy and Marines to train units and operators, collect additional performance data and identify opportunities to expand the flight envelope.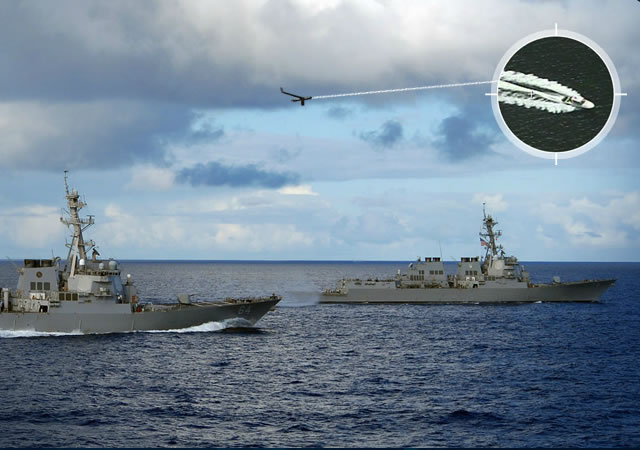 ScanEagle in Naval Use
(Artist Impression: Insitu)
"Marines are getting experience on how to operate and use the system while our team is collecting valuable data," Rector said. "Lessons learned from this deployment will be directly applied to the program of record. EOC helps us mitigate and evaluate risks early on."

While both RQ-21A variants are similar to operate, the RQ-21A STUAS is more robust. RQ-21A EOC uses long-wave infrared (LWIR) camera, which will be replaced with mid-wave infrared (MWIR) camera for production. The upgraded variant also adds enhanced features for operational security and an automatic identification system for maritime missions.

RQ-21A provides expanded payload capacity and rapid payload integration so that the warfighter can use the most advanced, and relevant, payload for their unique land and maritime missions and counter-warfare actions. The platform provides persistent maritime and land-based tactical Reconnaissance, Surveillance, and Target Acquisition (RSTA) data collection and dissemination capabilities to the warfighter.

From Naval Air Systems Command