a
Defense Industry News - USA
Insitu Announces Successful First Maritime Flight of RQ-21A Small Tactical Unmanned Air System
Insitu Inc. announced today the successful first maritime flight of the U.S. Navy and U.S. Marine Corps Small Tactical Unmanned Aircraft System (STUAS) RQ-21A. The nearly two-hour flight launched from the USS Mesa Verde (LPD 19) after three months of land-based development testing and operational assessment.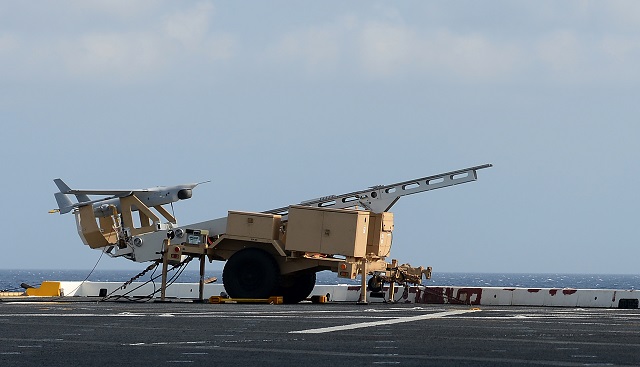 GULF OF MEXICO (Feb. 10, 2013) The MKIV launcher prepares to launch the RQ-21A Small Tactical Unmanned Air System (STUAS) from the flight deck of the San Antonio-class amphibious transport dock USS Mesa Verde (LPD 19) for its first flight at sea. Mesa Verde is underway conducting exercises. (U.S. Navy photo by Mass Communication Specialist 2nd Class Stuart Phillips/Released)
"Insitu is extremely proud of the partnership we have with Naval Air Systems Command," said Insitu Senior Vice President of Integrator Programs Ryan Hartman. "We see this milestone as confirmation of our government-industry team's commitment to delivering the first expeditionary, multi-intelligence UAS in this class to the Navy and Marine Corps."
RQ-21A is an expeditionary, no-runway solution that supports missions afloat and ashore and has demonstrated rapid payload integration to help commanders quickly adapt to emerging threats.

Naval Air Systems Command (NAVAIR) awarded the STUAS program to Insitu for its Integrator UAS in July 2010 to provide persistent maritime and land-based tactical intelligence, surveillance and reconnaissance data collection and dissemination capabilities. The Integrator UAS design served as the baseline for the RQ-21A UAS design.