a
Naval Forces News - India
INS Vikrant, India's first indigenous aircraft carrier, officially launched
India on Monday launched its first indigenous aircraft carrier, INS Vikrant, at Cochin Shipyard in the South West of the country. Minister of Defence, Arakkaparambil Kurian Anthony said the Navy's capabilities must be enhanced to ensure that it maintains "high operational preparedness to thwart any likely misadventure against our national interest."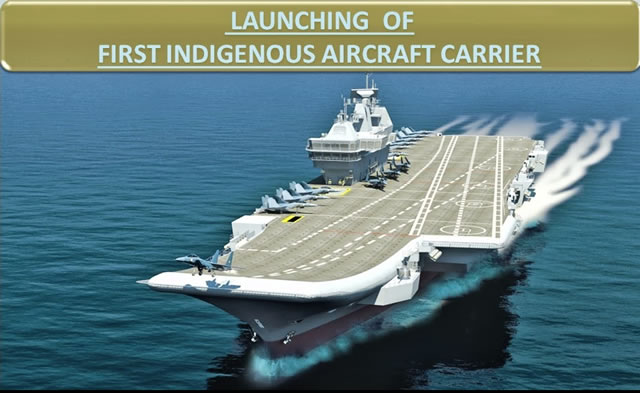 Artist impression of INS Vikrant

The launch of the 37,500-tonnes, 260 metres long and is 60 metres wide vessel is behind schedule by three years. It is expected to start its sea trials in 2016 before being commissioned into the Indian Navy by the end 2018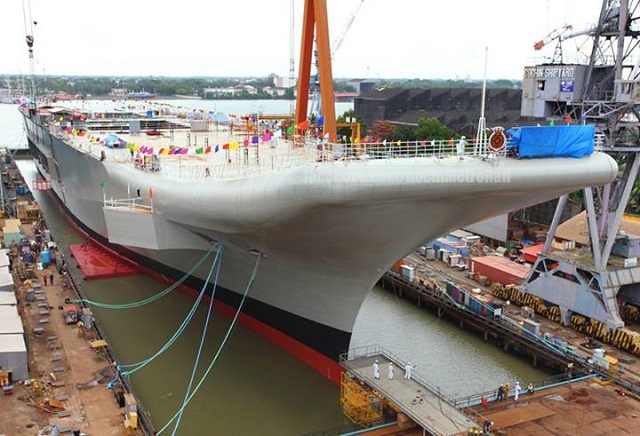 INS Vikrant at Cochin Shipyard in Kochi. About 83% of the fabrication work and 75% of the construction work has been completed at the time of launch. The rest of the work, including the flight deck, will be completed after the launch.

Maximum speed of the ship is announced at 28 knots, the ship reported range is 7,500 nautical miles at a speed of 18 knots. INS Vikrant is set to receive a large crew complement composed of 160 officers and 1,400 sailors.

The aircraft carrier will be able to accommodate 30 fighters and helicopters, including Mig-29K fighters and Ka-31 helicopters .