a
Naval Forces News - Russian, USA, Syria
As Russian warships head towards Eastern Mediterranean, US Navy deploys a fifth Destroyer
Russia has just deployed the Admiral Panteleyev, an Udaloy I class (Project 1155R Fregat) anti-submarine destroyer, and two Ropucha-class (project 775) landing ships the Minsk and the Novocherkassk to the Syrian coasts. At the same time, the US Navy is deploying a fifth Arleigh Burke class Destroyer, the USS Stout.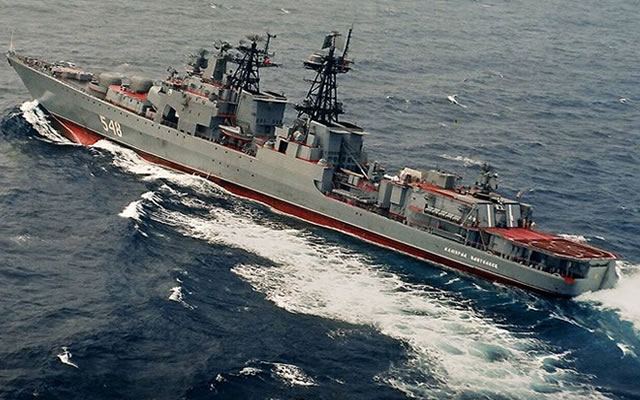 The Admiral Panteleyev destroyer, last ship of Udaloy I class
Udaloy I class (Project 1155R Fregat) anti-submarine destroyer datasheet, specification & pictures
A undiscolsed source reportedly said the planned deployment was in response to the "well-known situation" - a clear reference to the conflict in Syria.

The Russian Navy has officially denied the deployment is linked to events in Syria, saying it is part of a planned rotation of its ships in the Mediterranean.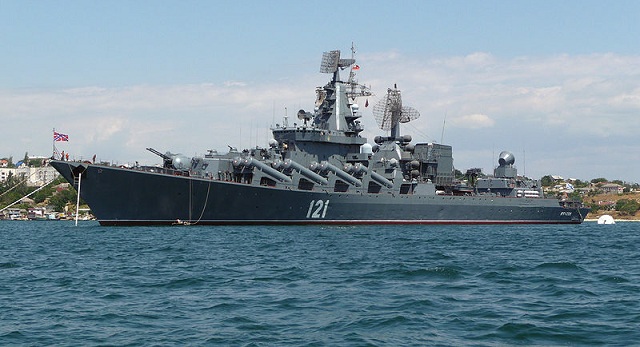 Project 1164 Atlant class "Moskva" cruiser, flagship of the Russian Black Sea Fleet
(Picture: George Chernilevsky)

According to Interfax, it is already known that in autumn, the Pacific Fleet's missile carrying cruiser Varyag is expected to replace anti-submarine Destroyer Vice Admiral Panteleyev within the Russian naval group in the Mediterranean Sea.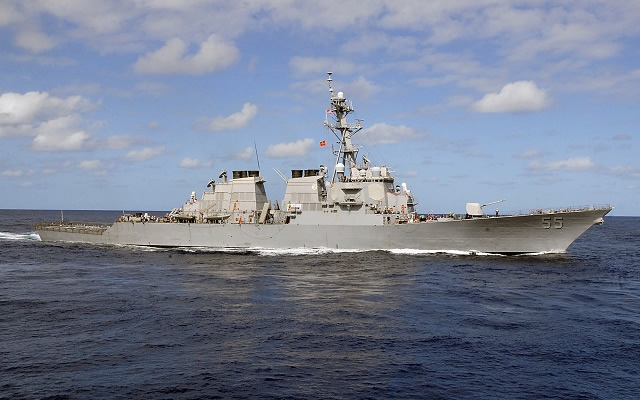 The guided-missile destroyer USS Stout (DDG 55) underway
(Picture: US Navy)

In the US, a defence official has said a fifth destroyer, the USS Stout, has been deployed to the Mediterranean and is "heading and moving east".

The guided missile destroyer is due to relieve the Mahan, but both ships might remain in place for the time being, the official said. Other destroyers in the area (USS Ramage, USS Barry and USS Gravely) are patrolling the Mediterranean and could launch their Tomahawk cruise missiles toward Syria if so directed by US President Barack Obama.

Yesterday, the French Navy deployed its Chevalier Paul Air Defense Destroyer to join the US and Royal Navy fleet.