a
Naval Forces News - Russia
Refitted Slava class guided missile cruiser Marshal Ustinov to rejoin Russian Fleet in 2015
The Russian Navy missile cruiser Marshal Ustinov is expected to rejoin the fleet in 2015 following delays in the warship's refit, the Zvezdochka shipyard said Friday. The Marshal Ustinov, a Slava-class missile cruiser, was launched in 1982 and commissioned with the Russian Northern Fleet in 1986. It has been undergoing a refit at the Zvezdochka shipyard in northern Russia since 2011.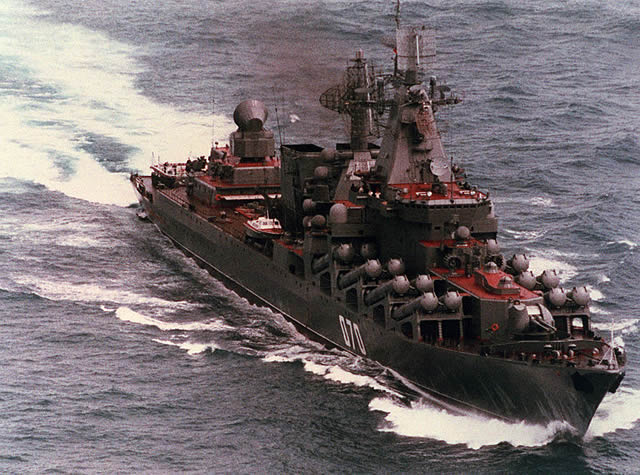 A starboard bow view of the Slava Class Russian guided missile cruiser MARSHAL USTINOV underway. Picture: US Navy

The completion of the work, which included repair of the propulsion system and overhaul of the ship's missile, communications and navigation systems, was originally scheduled for 2014. However, diagnostics revealed that the majority of electrical cables on the vessel must be replaced, the yard said.

"Taking into account the significant expansion of repair work, we are planning to return the Marshal Ustinov to the navy in 2015," the shipyard's general director, Vladimir Nikitin said in an exclusive interview with RIA Novosti.

Nikitin said two other Slava-class missiles cruisers in active service with the Russian navy – the Black Sea Fleet's Moskva and the Pacific Fleet's Varyag – will also undergo scheduled maintenance and overhaul at Zvezdochka in future.

The Slava-class cruisers were designed as surface strike ships with some anti-air and ASW capability, and have a primary armament of sixteen SS-N-12 Sandbox nuclear-capable supersonic anti-ship missiles.