a
Naval Forces News - United States
Boeing delivers 6th production P-8A Poseidon maritime patrol aircraft to U.S. Navy.

Boeing delivered the sixth production P-8A Poseidon aircraft to the U.S. Navy Jan. 31, successfully completing the first group of low-rate initial production aircraft that are dramatically improving the service's maritime patrol capabilities.

The delivery is the final aircraft from a contract awarded in January 2011. Boeing is on schedule to build 24 P-8A maritime patrol aircraft as part of contracts awarded in 2011 and 2012.

"The P-8 team continues to incorporate efficiencies into our production as we ramp up deliveries in 2013," said Rick Heerdt, Boeing vice president and P-8 program manager. "We've reduced flow times and costs, which ultimately benefits our U.S. Navy customer."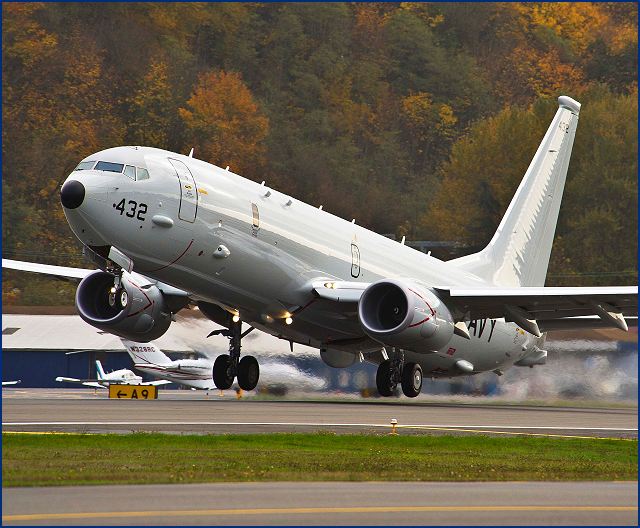 Boeing P-8A Poseidon maritime patrol aircraft

The U.S. Navy plans to purchase 117 P-8As, which are based on the Next-Generation Boeing 737-800 platform. It is a versatile multi-mission aircraft that provides broad long-range maritime patrol capabilities -- anti-submarine warfare, anti-surface warfare, intelligence, surveillance and reconnaissance. It is replacing the U.S. Navy's P-3 fleet.

"This aircraft delivery marks the beginning of a new era of maritime patrol aircraft," said Capt. Scott Dillon, Maritime Patrol and Reconnaissance Aircraft program manager. "The first fleet squadron is now equipped with P-8s, and will soon deploy with a maritime patrol capability that is greatly enhanced relative to our legacy P-3 force."

The next three Poseidon aircraft are undergoing mission systems installation and checkout in Seattle, and two more are in final assembly in Renton, Wash. Boeing will deliver its seventh production P-8A to the Navy later this quarter.

As part of the LRIP contracts, Boeing is also providing maintenance training for the Navy, in addition to logistics support, spares, support equipment and tools.