a
Naval Forces News - USA
F-35C gets US Navy Fighter Attack Squadron 101 (VFA-101) "Grim Reapers" High Visibility Scheme
An F-35C painted for its future assignment to US Navy Fighter Attack Squadron 101 (VFA-101) at Eglin AFB, Florida, is shown in the paint facility at the Lockheed Martin facility in Fort Worth, Texas, on 7 January 2013.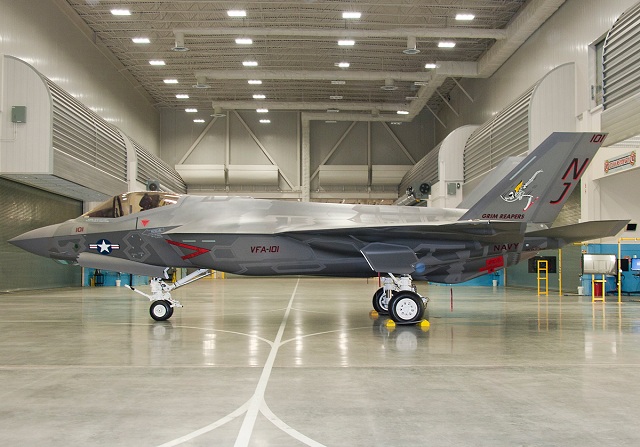 (Picture: Lockheed Martin)
The original Fighter Squadron 101 (VF-101), nicknamed Grim Reapers, was established 1 May 1952 and flew various fighter aircraft including the F-4 Phantom and F-14 Tomcat. VF-101 was disestablished in 2005. To support the Navy version of the F-35, VFA-101 was reestablished in May 2012 at a new hangar and training facility at Eglin. The unit will serve as the Fleet Replacement Squadron, training Navy Lightning II aviators and maintainers. This aircraft (Bureau Number 168733) is scheduled for delivery later his year.