a
Naval Forces News - France
First Underway Replenishment for French Navy's newest Frigate: FREMM Aquitaine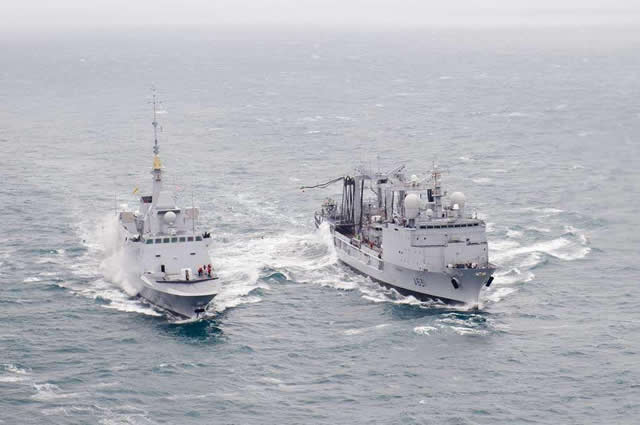 French Navy Aquitaine Frigate conducts a Replenishment at Sea (RAS) with Somme AOR, Durance class. Picture: French Navy/Bellenand Jonathan
During the replenishment at sea with Somme AOR, actual transfer of fuel occurred. This is a new step towards the full qualification of the newest and most advanced Frigate in the French Navy fleet.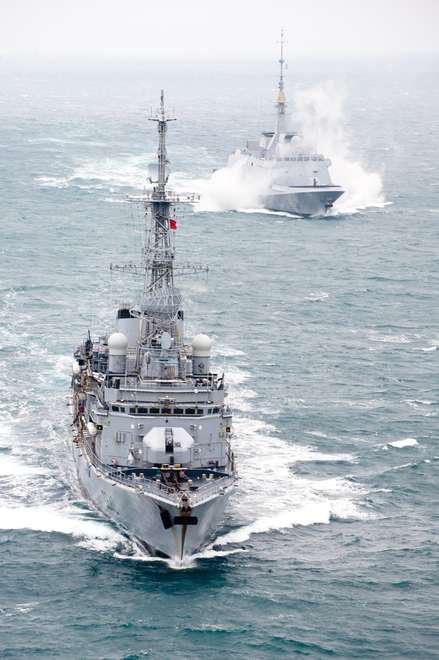 Aquitaine Frigate conducts maneuvers with Georges Leygues Frigate
Picture: French Navy/Bellenand Jonathan
The exercise included joint maneuvers with
Georges Leygues
et Latouche Tréville anti-submarine Frigates
(both based at Brest naval base).
Aquitaine
Frigate is currently on her way to Toulon naval base for her formal acceptance in the French Navy. The Frigate and her crew will then start a "long cruise" across the Atlantic Ocean to further check and qualify the ship. A port of call at Norfolk Naval Station is expected during this cruise.

Pictures: French Navy/Bellenand Jonathan