a
Naval Industry News - Germany
ATLAS ELEKTRONIK and Thales Deutschland to modernize combat system of F124 frigate

ATLAS ELEKTRONIK and Thales Deutschland have jointly been commissioned to modernize the combat system of the German Class F124 frigates. The CEOs of both enterprises recently signed the contract at the Federal Office of Bundeswehr Equipment, Information Technology and In-Service Support (BAAINBw) in Koblenz.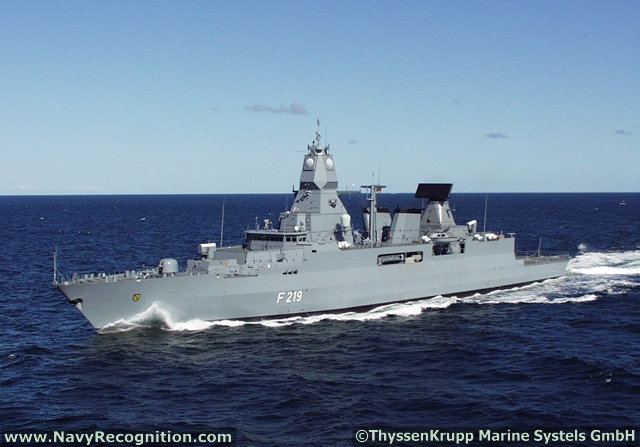 German Navy F124 class Frigate

With completion scheduled for 2017, the "HW Regeneration CDS F124" consortium formed by the two companies will refurbish the hardware of the Combat Direction System (CDS) and also adapt and update the software. The regeneration process is driven by the sweeping implemen-tation of commercial hardware and software, because technological development in this field is progressing at a rapid pace. Here it will be possible build up on the know-how and experience gained during the F124 construction and service phase, in which both companies were in-volved. The order comprises the three frigates "Sachsen", "Hamburg" and "Hessen" as well as the Test and Training Centre (EZ/AZ) in Wilhelmshaven and the Reference Maintainer and Training Site (RMTS) in Den Helder. The work is to be organized and managed in such a way that the vessels will not need to be taken out of service.

The activities include replacement of the outdated console processors, the data recording modules, and various network modules using components of the latest generation. Supporta-bility of CDS components that are not regenerated yet critical for the system's realtime re-sponse will, however, be ensured. An intentional side-effect is that, following the hardware regeneration, the computer systems will offer sufficient capacity for the integration of new sub-systems and future CDS functionalities.

Volker Paltzo, Managing Director of ATLAS ELEKTRONIK and Peter Obermark, CEO of Tha-les Deutschland, stated: "The frigates of the Class F124 are amongst the most modern and effective ships of their kind worldwide. We are proud of this expression of trust: in close coop-eration with the German Navy, ATLAS ELEKTRONIK and THALES – as two internationally leading system suppliers – are to prepare these ships for the challenges of the years to come."