a
Naval Industry News - Netherlands
Damen Stan Patrols 5509 for Guardia di Finanza Corp

Together with its Italian partner yard Cantiere Navale Vittoria S.p.a., Damen Shipyards are building two Stan Patrols 5509 to the Italian Guardia di Finanza. This Italian law enforcement agency, deals with financial crime, smuggling Illigal Immigration and narco traffic and maintains a fleet of about 250 vessels.

The contract, resulting from a European tender, may be considered quite a unique event, says Frank de Lange, sales director North, West and South Europe at Damen Shipyards Gorinchem. Guardia di Finanza, after a long and careful assessment, has chosen the proposal of the team Damen Shipyards/Cantiere navale Vittoria, Mr De Lange attributes the success to the proven design and guaranteed performance against a very competitive quotation.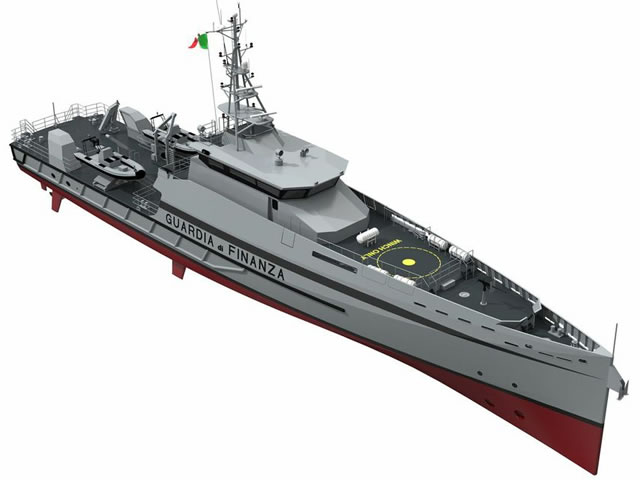 Stan Patrol 5509
Latest model in successful series to make its first appearance in Italy for patrolling tasks in Mediterranean basin waters.
Picture: Damen
Actually the 5509 is the latest model of a series Stan Patrols that remains highly in demand, and the largest to be built so far. The two vessels are built in Italy from a so called 'Damen Technical Cooperation Package', by using a pre-fabricated shipbuilding kit. For this purpose Damen joins forces with the shipbuilding and -repair company " Cantiere Navale Vittoria" in Adria. Vittoria has been in the trade for 80 years always under the control of the Duò family.

Showpieces
The vessels will be put to use for continuous patrolling duties in the Italian territorial waters and in the entire mediterranean sea.
Speed and reliability are thus essential for carrying out the duties. One of the Stan Patrol's main features is the unrivalled sea- keeping behaviour, a technical feat stemming from intense research in cooperation with the Delft University of Technology. Its 'Sea Axe' bow form allows the vessel to reach and keep a speed up to 28 knots at a 90% MCR, even in heavy seas and strong winds. Superior motion behavior and a much lower resistance decrease the Stan Patrols fuel consumption and emissions. This gives advantages in cost-effectiveness also related to enviromental sustainability.

The Stan Patrols are further more equipped with two rigid inflatable boats, in order to give more flexibility to the unit. "These vessels are definitively showpieces", Frank de Lange concludes.