a
Naval Forces News - Iran
Iran Launched new "Fateh" class Submarine for its Naval Forces
Iran launched a semi-heavy submarine in a bid to boost its naval capabilities in the high seas, Iranian Defense Minister Brigadier General Hossein Dehqan announced. Iran launched the largest submarine it has ever built into the Gulf & is building a second according to satellite. This is the first time that the Fateh-class submarines that Iran has said it is building have been seen. The first submarine can be seen in the water at the Bostanu shipyard on the Strait of Hormuz in satellite imagery. A second submarine can be seen under construction at the Bandar Anzali Naval Base on the Caspian Sea in Iran in September.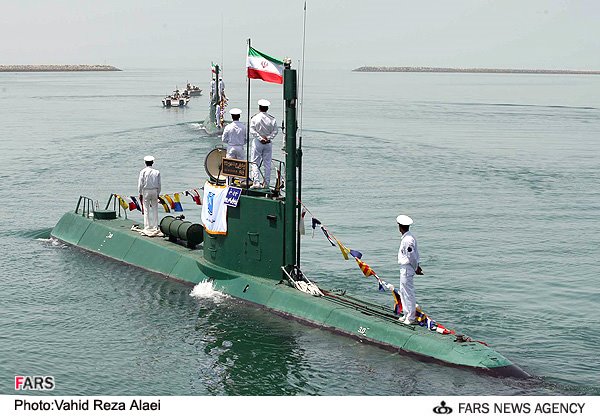 Qadir (Ghadir) class submarine
(picture: Fars News)
The 600-ton Fateh class are designated "semi-heavy submarines" by Iran's Navy. They will probably be used to carry out coastal missions along with the existing submarines in the Iranian Fleet.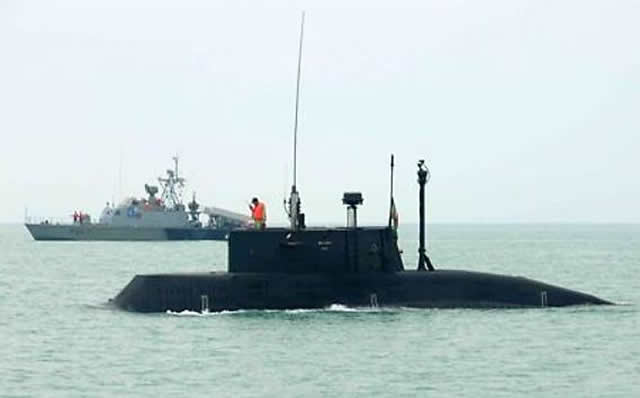 Nahang (whale) Midget Submarine
Link to Nahang Submarine Datasheet
Islamic Republic of Iran Navy submarine force includes the indigenous Qadir-class (or Ghadir): The backbone of the force. Eighteen of these midget submarines are reported to be in service. They displace around 120 tonnes.

Iran also developped the Nahang Submarine. The Nahang (Whale) is an Iranian built diesel-electric submarine. Unveiled for the first time in 2006, its design and construction were said to have involved 220 researchers, and 1.2 million hours of scientific and industrial work.

Qadir and Nahang submarines are suited for reconnaissance and combat mission in territorial waters, specially in the Persian Gulf and the Strait of Hormuz.

Iran also aquired three 2325 tons Kilo class diesel electric submarines from Russia in the nineties.