a
Naval Industry News - USA
Kvichak Marine Industries Delivers Response Boat Medium (RB-M C) to LA County Sheriff
Kvichak Marine Industries, of Seattle, WA, recently delivered a Response Boat Medium – C to the Los Angeles County Sheriff's Department (LASD). The 45' x 14' 7" RBM-C is the sistership of the highly successful USCG RB-M and has been adapted to meet the Chemical, Biological, Radiological, Nuclear, and Explosives (CBRNE) detection mission requirements of the L.A. County Sheriff's department. A roof mounted RS-700 Gamma/Neutron Radiation Detection System from RSI enables the vessel to quickly and accurately measure and locate natural and man-made radioactive elements.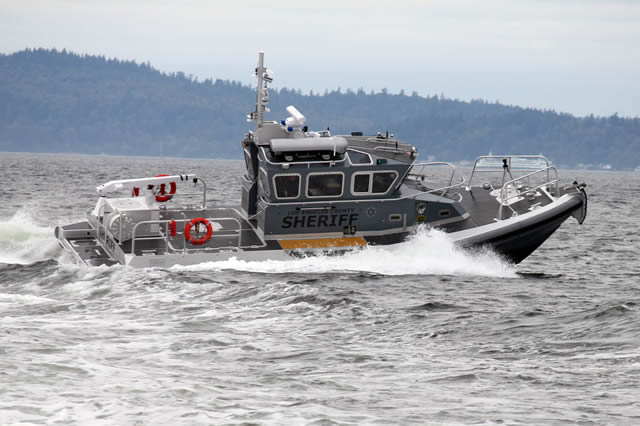 Los Angeles County Sheriff's Department (LASD) RB-M C
Link to RB-M Technical Datasheet
Designed by Camarc Design, UK, the all-aluminum vessel is powered by twin Detroit Diesel 60 series engines rated for 825 BHP each. Rolls Royce Kamewa FF375S waterjets were chosen as the propulsors with Twin Disc MG5114SC transmission. This combination allows for excellent maneuverability and a top speed exceeding 42 knots.
Kvichak has already delivered three RB-M C's to the New York Police Department Harbor Unit and one to the Seattle Police Department Harbor Unit.
Link to RB-M Technical Datasheet