a
Naval Defense Industry News - Germany, UK
Atlas Elektronik UK to deliver more Cerberus Diver Detection Systems to international Customers
ATLAS ELEKTRONIK UK Ltd is delighted to announce that it has recently secured two significant contracts for the supply of its class leading Cerberus Mod 2 Diver Detection Sonar (DDS) systems. Both orders are for permanently deployed systems which will be used for the protection of key overseas infrastructure with one of the installations being an integrated, multiple head system to provide complete underwater sonar protection for a location of high national importance.
Artist Impression: Cerberus in use
(Picture: Atlas Elektronik)
Being recognised as the class leading portable DDS system, Cerberus was chosen for its superior performance in challenging underwater environments and for its reliability and value for money. These contracts will be delivered during 2013 and early 2014 and will include equipment supply, training and installation support.

Commenting on these latest contracts, Dr Antoni Mazur, Managing Director of ATLAS ELEKTRONIK UK said "I am extremely delighted with the award of these contracts to provide multiple systems for important overseas installations. Unfortunately we cannot disclose the Customers or locations for either contract but the sales, one of which is a repeat order, again reinforces our position as a class leader in this area. The investment in our composite transducer manufacturing capability and the development of advanced in-house transducer assembly techniques has led to increased performance and reliability in the Cerberus Mod 2 DDS and I am pleased to be able to pass the result of these developments on to our Customers."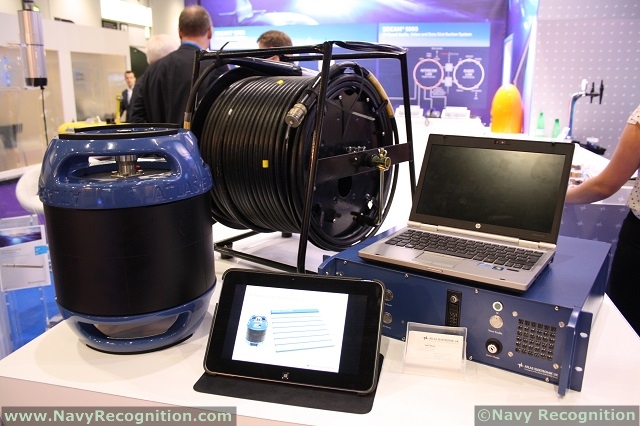 Cerberus full kit as shown during DSEI 2013 on the Atlas Elektronik stand
The Cerberus Mod 2 DDS can be used to protect military vessels, port and harbours and key infrastructure from underwater threats by alerting the operators to the presence of open and closed circuit divers, swimmers, Autonomous Underwater Vehicles (AUVs) and Swimmer Delivery Vehicles (SDVs). The compact, Mil-Spec system is ideally suited for expeditionary use on platforms such as the German F125 frigate as well as for permanent installation in military and commercial ports and harbours. Cerberus provides full 360º sonar coverage, the ability to discriminate between divers, marine mammals and fish as well as debris floating in the water. The system has been designed to operate autonomously providing an alarm when the system is alerted but with a low false alarm rate.

Cerberus is being operated globally by a growing military and private customer base utilising proven detection performance, target tracking and classification algorithms which were developed with the extensive heritage of advanced sonar processing and hardware development capability within ATLAS ELEKTRONIK, the UKs leading sonar house for diver detection.