a
Naval Forces News - USA
U.S. Navy Expands Surveillance Mission for MQ-4C Triton Maritime Unmanned Aircraft
The U.S. Navy will increase by 50 percent the monthly surveillance flights of a Northrop Grumman Corporation-built maritime unmanned demonstrator under a contract awarded Sept. 6. The contract will allow Navy commanders to keep closer tabs on activities in the ocean and coastal regions of the Middle East.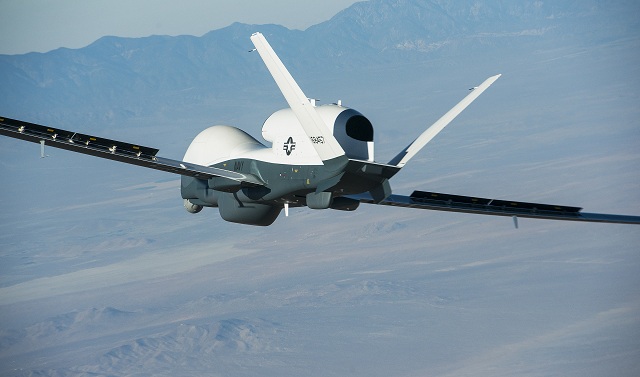 Link to MQ-4C Triton datasheet

PALMDALE, Calif. (May 22, 2013) The Northrop Grumman-built Triton unmanned aircraft system completed its first flight from the company's manufacturing facility in Palmdale, Calif. The one an a half hour flight successfully demonstrated control systems that allow Triton to operate autonomously. Triton is specially designed to fly surveillance missions up to 24 hours at altitudes of more than 10 miles, allowing coverage out to 2,000 nautical miles. The system's advanced suite of sensors can detect and automatically classify different types of ships. (U.S. Navy photo courtesy of Northrop Grumman by Bob Brown/Released)
Under terms of the $9.98 million award, the company will provide maintenance, operations and other support services to enable the Broad Area Maritime Surveillance Demonstration (BAMS-D) aircraft to fly 15 missions per month, up from nine missions per month in previous years.

"The Navy planned a six-month demonstration of the BAMS-D aircraft in 2009 to test the maritime surveillance capabilities of the system," said Mike Mackey, Northrop Grumman program director for the Triton unmanned aircraft program that includes the BAMS-D. "That demonstration was so successful that the service has used them for more than four years now."

Based on the Global Hawk unmanned air system designed for land surveillance, the BAMS-D systems were modified to work in a maritime environment. In April, the aircraft surpassed 10,000 flight hours.

The BAMS-D aircraft regularly fly missions more than 24 hours long. Flying at high altitude, they can monitor and gather imagery from vast areas of ocean and coastal regions.