a
Naval Forces News - Russia
Russian Navy Aircraft Carrier Admiral Kuznetsov Takes Part in Barents Sea Drills
Russia's sole aircraft carrier, the Admiral Kuznetsov, is currently taking part in a five-day naval exercise in the Barents Sea. The exercise started on Saturday and will end on September 25, according to a spokesman from Russia's Northern Fleet.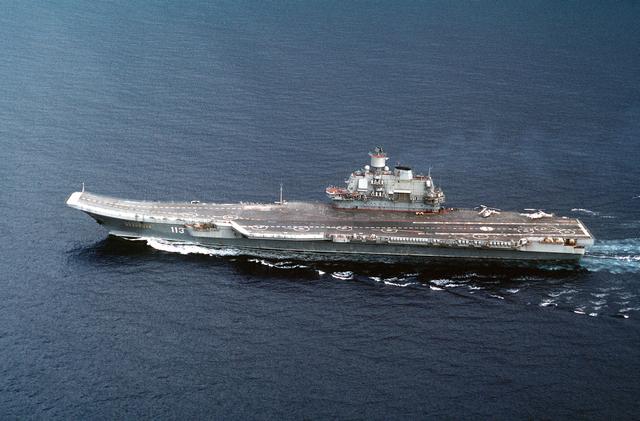 Russian Navy's sole aircraft carrier the Admiral Kuznetsov
(picture: US DoD)
"The Admiral Kuznetsov set sail from the naval base in Severomorsk, heading toward the exercise area in the Barents Sea," Capt. 1st Rank Vadim Serga said.

The warship was assigned to the Northern Fleet in January 1991. It is capable of carrying 26 Su-33 Flanker-D and MiG-29K Fulcrum-D carrier-based fighter jets, and 24 anti-submarine helicopters.

Large-scale drills of the Northern Fleet in the Barents Sea and on the Kola Peninsula are planned to involve some 30 warships and auxiliary vessels, up to 50 combat vehicles, about 20 aircraft and 2,500 personnel.

The exercises will involve air defense drills, submarine search-and-destroy missions, live firing drills and simulated beach assault landing, Serga said.

Russian Navy Commander Adm. Viktor Chirkov will oversee the exercises.