a
Naval Forces News - USA
X-47B UCAS conducts 100th flight from NAS Patuxent River
The US Navy's X-47B Unmanned Combat Air System (UCAS) demonstrator safely conducted its 100th flight from Naval Air Station Patuxent River, Md.on September 18 2013. The Navy UCAS program successfully completed all objectives for the carrier demonstration phase with the X-47B in July.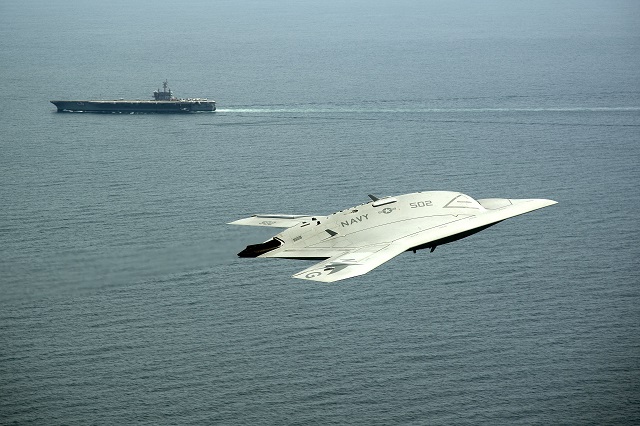 X-47B in flight after first-ever catapult launch from USS George H.W. Bush in May 2013.
(Picture: US Navy)

During three at-sea periods over eight months, the X-47B conducted a total of 16 precision approaches to the carrier flight deck, including five planned tests of X-47B wave-off functions, nine touch-and-go landings, two arrested landings and three catapult launches. The program is currently planning for continued carrier integration demonstrations and has also begun surrogate Learjet testing of the autonomous aerial refueling (AAR) capability, which promises to significantly increase the endurance and range of carrier-based unmanned aircraft.
Link to X-47B Unmanned Combat Air System (UCAS) demonstrator technical datasheet