a
Naval Industry News - UK
BAE Systems announces new suppliers for Type 26 Global Combat Ship Frigate programme
BAE Systems has today announced new design contracts for the
Type 26 Global Combat Ship
, which will play a vital role in the programme to deliver the Royal Navy's next generation surface warship. Six Design Development Agreements have been awarded covering key areas such as propulsion, ventilation and electrical equipment, as well as combat and navigation systems.
Our interview with Geoff Searle, the Type 26 Programme Manager during DSEI 2013
The design contracts have been awarded to the following companies:

• Babcock for the ship's Air Weapons Handling System
• DCNS for work on the vessel's propulsion shaftlines
• GE Energy Power Conversion for the Electric Propulsion Motor and Drive System
• Imtech for the Heating, Ventilation and Air Conditioning System, and the Low Voltage Electrical equipment
• Raytheon to develop the Integrated Navigation and Bridge Systems
• Tyco Fire & Integrated Solutions for the ship's Fixed Firefighting Systems

Geoff Searle, Type 26 Global Combat Ship Programme Director at BAE Systems, said: "By the 2030s, the Type 26 will be the backbone of UK's surface fleet and a strong industrial base is essential to sustaining this naval capability. Our partners and suppliers play a key role in this, as we work together to further develop the detailed design of the ship's systems and equipment to enable us to deliver 13 highly capable, affordable and supportable Type 26 ships for the Royal Navy.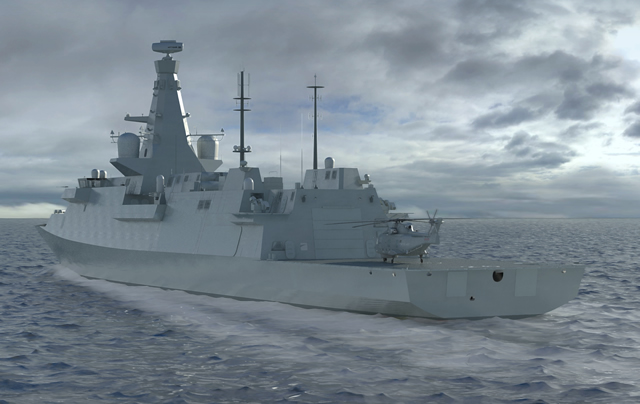 The Type 26 Global Combat Ship will be a globally deployable, multi-mission warship
Image: BAE Systems
"With UK suppliers expected to account for around 80% of this significant programme, Type 26 will support thousands of skilled UK jobs in BAE Systems and across the whole supply chain. We look forward to welcoming more suppliers into the Type 26 team in the coming months."
The latest contract awards build on the first four suppliers to the programme announced in September 2013. Covering propulsion and communications equipment for the ship, the initial Design Development Agreements were awarded to Rolls Royce, MTU, David Brown Gear Systems and Rohde & Schwarz. It is expected that a total of 25 agreements will be placed this year.
The Assessment Phase for the Type 26 programme began in March 2010 and a joint team of more than 650 people from across BAE Systems and wider industry are working with the Ministry of Defence on the engineering of the ship and to prepare proposals to be submitted later this year. The team aims to secure a manufacturing contract that will sustain this long-term national capability by the end of 2014.
Under current plans, 13 Type 26 ships will be delivered to the Royal Navy, with manufacturing in Glasgow scheduled to start in 2016. The first vessel is due to enter service as soon as possible after 2020 and the Type 26 class will remain in service until 2060.
The Type 26 Global Combat Ship will be a globally deployable, multi-mission warship capable of undertaking a wide range of roles from high intensity warfare to humanitarian assistance, either operating independently or as part of a task group.
The ship will take full advantage of modular design and open systems architecture, ensuring it can be easily upgraded as new technology develops and can accommodate different sub-systems and equipment suited to potential overseas customer needs.
Link to our updated Type 26 Global Combat Ship technical datasheet