a
Naval Industry News - Spain, South Korea
Republic of Korea Navy selected Indra's PEGASO ESM for its future KSS-III Submarines
Indra will equip two new submarines of the Republic of Korea Navy (ROKN) with its electronic defense system PEGASO. These submarines are part of the third phase of the submarine acquisition program started by the ROKN in the 90's. New submarines will be designed and developed in South Korea and will incorporate significant improvements.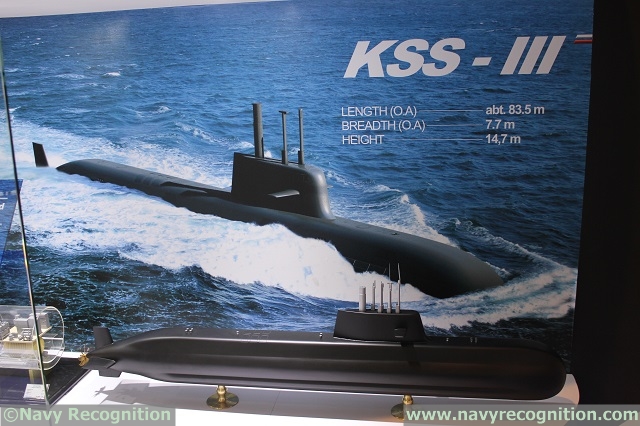 KSS-III is a 3000 tons SSK submarine project fitted with 6x VLS (vertical launch systems)
This solution will allow the submarines to detect and analyze the radar signals in the mission environment and to identify the type radar and the associated threat level, becoming an essential contribution to the protection of the platform.
PEGASO is a latest generation RESM system (Radar Electronic Support Measurement) based on wideband digital reception technology. This type of signal processing guarantees a high sensitivity and detection range even in dense electromagnetic scenarios, combined with excellent reaction time and accuracy.
PEGASO technology will give the new boats of the ROKN an important operational advantage in threats identification. Same technology has already been selected by the Navies of Spain, Germany, Italy or Indonesia for their submarines.

KSS-III is a conventional submarine project (SSK). The original design of the submarine includes 6 VLS (vertical launch system) tubes. They would accomodate a future cruise missile in development by LIG Nex1 while the launchers would be provided by Doosan.