a
Naval Forces News - Australia
Australia Launches New Pacific Patrol Boat Program to Strengthen Security in Pacific Region
A new $2 billion Pacific Patrol Boat (PPB) Program unveiled today by Foreign Minister Julie Bishop and Defence Minister David Johnston aims to significantly strengthen security in our region. "The Pacific Patrol Boat Program is an important pillar of the Australian Government's commitment to working with our regional partners to enable cohesive security cooperation on maritime surveillance, including in fisheries protection and transnational crime," Minister Bishop said.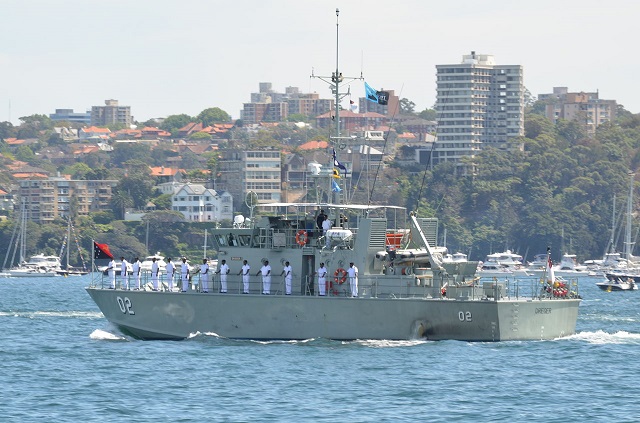 HMPNGS Dreger entering Sydney Harbour in October 2013. The Pacific class is a class of 22 patrol boats built by Australia and donated to twelve South Pacific countries. Constructed from 1985 to 1997 and operated by militaries, coast guards or police forces of the twelve island nations, these boats are supported by the Pacific Patrol Boat Program. They are used primarily for maritime surveillance and fisheries protection. Picture: Saberwyn

"Defence will replace the current fleet of patrol boats for all current PPB members with the addition of a new member, Timor-Leste (East Timor), which has been invited to join the program, evidence of Australia's growing defence cooperation program with that country," said Senator Johnston.

"The current fleet of 22 patrol boats gifted to 12 Pacific Island countries from 1987 to 1997 are now approaching their end of service life.

"This new program will involve the construction of more than 20 steel, all-purpose patrol vessels that will considerably enhance the maritime security of our Pacific and regional partners," he said, adding: "Australia has a fundamental strategic interest in the security and stability of Pacific island nations."

Senator Johnston said the rugged Australian-made patrol boats are worth $594 million with through life sustainment and personnel costs estimated at $1.38 billion over 30 years.

In the coming months discussions will be held with PPB states on the individual allocation of patrol vessels.

Replacement patrol boats will be offered to all current participating states including Papua New Guinea, Tonga, Solomon Islands, Fiji, Tuvalu, Kiribati, Samoa, Vanuatu, Federated States of Micronesia, Palau, Republic of Marshall Islands, Cook Islands and new member Timor-Leste.

Under the program, Defence will undertake an open tender for the procurement which includes an option for ongoing sustainment and crew training.