a
Naval Forces News - USA
USNS Montford Point (MLP 1) Successfully Completes LCAC Interface Tests
The U.S. Navy successfully completed Landing Craft Air Cushion (LCAC) interface tests off the coast of Camp Pendleton June 13, aboard the Navy's first Mobile Landing Platform, USNS Montford Point (MLP 1).

During the test, LCACs from Assault Craft Unit (ACU) Five transported Amphibious Assault Vehicle (AAVs) and their crews from their Camp Pendleton base and offloaded them onto the Montford Point, demonstrating the MLP's ability to serve as a mobile seabase, facilitating at-sea transfers and ultimate delivery of equipment ashore.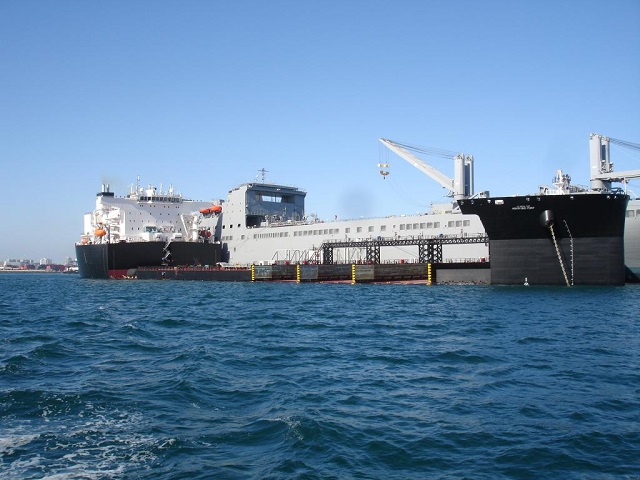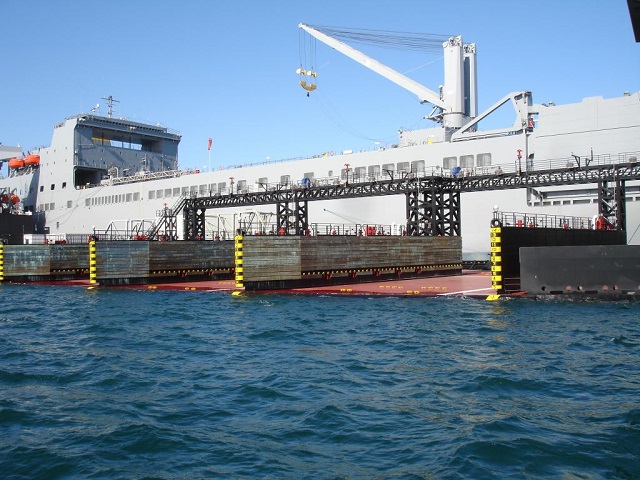 The Military Sealift Command mobile landing ship USNS Montford Point (MLP 1) in its final configuration with special docking spaces for LCACs. The vessel is seen here balasting down.
Pictures: capntroy / rcgroups.com

"These tests mark the first complete demonstrations of Montford Point's capabilities working with Fleet assets," explained Capt. Henry Stevens, Strategic and Theater Sealift program manager for Program Executive Office (PEO) Ships. "These tests prove just how valuable this vessel will be in support of at-sea operations for the Navy."

Crews from both the LCACs and Montford Point conducted briefs, training and additional drills to support the interface testing and provided operators an opportunity to increase familiarity with the MLP class in preparation for Initial Operational Test and Evaluation (IOT&E) later this year. The tests also demonstrated that Montford Point, with its newly installed Core Capability Set (CCS), meets the standards and requirements set by its Capabilities Development Document (CDD).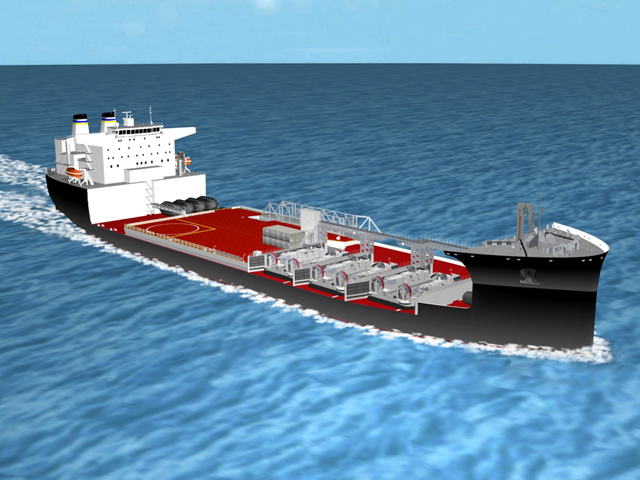 An artist concept of a mobile landing platform (MLP) ship
(Image: US Navy)

The MLP's leverage float-on/ float-off technology and a reconfigurable mission deck to maximize their capability. Montford Point's CCS includes modules for a vehicle staging area, a sideport ramp, large mooring fenders and up to three LCAC vessel lanes. These capabilities enable large-scale logistics movements including the transfer of personnel, vehicles from other vessels such as the large, medium-speed, roll-on/roll-off ships (LMSRs) and the Joint High Speed Vessel (JHSV) onto LCACs for transport ashore.

These tests are integral to familiarizing the Naval Beach Group personnel, LCAC operators, and AAV operators with the MLP, its various modules as well as its day and nighttime operations.