a
Naval Defense Industry News - Canada, New Zealand
Lockheed Martin Canada Selected for Upgrade of Royal New Zealand Navy's ANZAC Frigates
Building on its 30-year legacy as a naval combat systems integrator, Lockheed Martin Canada today announced the signing of a contract with the Government of New Zealand for the upgrade of the Royal New Zealand Navy's two ANZAC Class frigates at a signing ceremony in Wellington on April 29, 2014. The contract award represents Lockheed Martin Canada's first export sale of its Combat Management System (CMS), which was designed as a modern, affordable solution for the international market.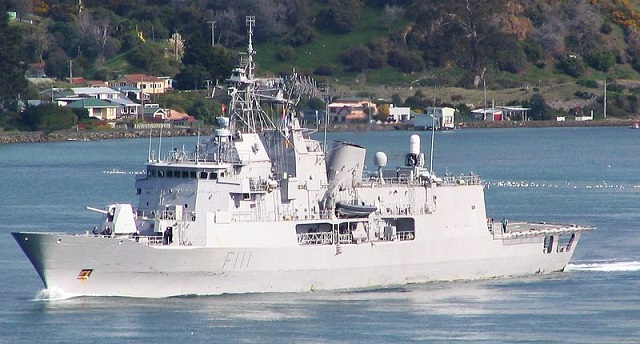 HMNZS Te Mana (F111) is one of ten Anzac class frigates
and one of two serving in the Royal New Zealand Navy.
(picture: Benchill)
"To have another country select our CMS is tremendously rewarding to our employees and the government of Canada with whom we've worked for more than three decades on similar naval programs," said Rosemary Chapdelaine, president of Lockheed Martin Canada. "This key export of Canadian-designed technology not only reinforces Lockheed Martin's position as a world leader in naval combat systems integration but further demonstrates our ability to successfully leverage purchases and investments in high-technology defence products to create jobs and economic growth in Canada, one of the key objectives set forth in the recently launched Defence Procurement Strategy (DPS) in Canada."

The announcement comes following a due diligence in August last year followed by a Contract Definition Stage (CDS) in October, during which the New Zealand Ministry of Defence (NZ MoD) re-confirmed its intention to contract with Lockheed Martin Canada for the ANZAC Frigate System Upgrade program's Prime System Integrator (PSI) role. Under the terms of the contract, Lockheed Martin Canada will be responsible for the design, installation and integration of the CMS and Combat System Trainer for the Devonport Naval Base in Auckland, as well as the procurement of new sensor and weapon systems for HMNZ Ships Te Mana and Te Kaha.

Valued at more than C$180M over four years, the program will result in significant work scope at Lockheed Martin facilities in Dartmouth, Kanata and Montreal. Should the NZMoD take up the offer to undertake the installation work package that is provided for in the contract, this will result in additional work scope for the SEASPAN shipyard in Victoria, British Columbia. Lockheed Martin will work with several other Canadian companies across the country, as well as with its partner on the Halifax Class Modernization contract, Saab Sweden. In addition, Lockheed Martin is working with New Zealand Trade and Enterprise to include local industry in the ANZAC Frigate System Upgrade program, as well as current and future Canadian and international programs.

The CMS is a commercial variant of systems developed for the Royal Canadian Navy and leverages an Open Architecture concept that allows users maximum flexibility to incorporate individual sub-systems and components. The original equipment manufacturer and integrator of the combat systems on-board the HALIFAX fleet, Lockheed Martin Canada has maintained an uninterrupted contractual relationship with the RCN for more than 30 years and is today prime contractor the mid-life modernization of the fleet.

Mr. Des Ashton, the New Zealand Ministry of Defence's Deputy Secretary (Acquisitions) said that the Frigate Systems Upgrade (FSU) project will meet the Government's aim of restoring the frigate's surveillance, combat and self-defence capabilities in order to match contemporary threats. "It is a very important project for the Ministry and for the Royal New Zealand Navy and comes at about the mid-life point of the ANZAC frigate's life. The project will provide the ships with excellent systems that will enable them to perform their expected tasks through to the end of their life in the 2030's. We are delighted that Lockheed Martin Canada has been selected as our Prime System Integrator after a worldwide competitive tender process. We consider that Lockheed Martin's significant experience from the Canadian Navy's HALIFAX Modernization Programme, will be an important de-risking factor in our FSU project. We look forward to working closely with LMC to collectively achieve a successful outcome."

Lockheed Martin Canada's naval combat systems business is a division of the corporation's Mission System & Training business area. With headquarters in Ottawa, the company maintains its Maritime Advanced Training and Test Site (MATTS) in Dartmouth in addition to facilities in Montreal and Esquimalt.