a
Naval Forces News - Greece
First Type 214 SSK built in Greece, S-121 "Pipinos" was launched for Hellenic Navy
The second of a total of four Type-214 submarine (the first of the class built in Greece) S-121 "Pipinos" was launched at Hellenic Shipyard in Skaramanga, Attica. The launching and naming ceremony of the submarine was held in presence of the Prime Minister Antonis Samaras, the Minister of National Defence Dimitris Avramopoulos and several Hellenic Navy officers.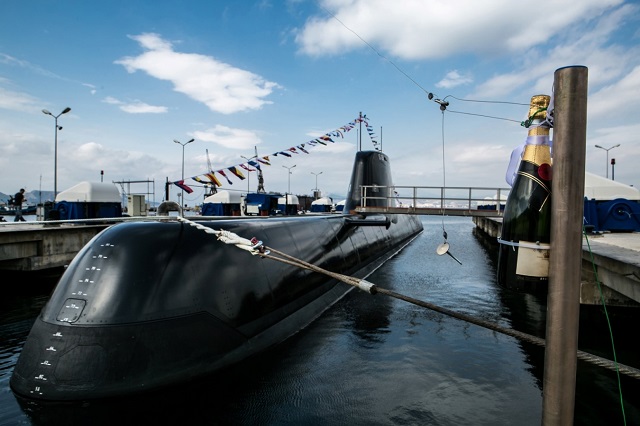 S-121 Pipinos Type 214 Diesel Electric Submarine of the Hellenic Navy
Picture: Hellenic Navy

The sub will undergo sea and port trials before joining the fleet. These are expected to take 8-10 months. On the basis of the proven design principles of the HDW Class 209 family with additional incorporation of innovative features of HDW Class 212A, ThyssenKrupp Marine Systems developed the HDW Class 214 submarine.

It is well equipped to undertake a wide scope of missions ranging from operations in littoral waters to ocean-going patrols. The modular weapon and sensor mix, in combination with the submarine's air-independent features, makes the HDW Class 214 predestined for:
- Anti-surface ship and anti-submarine operations
- Intelligence, surveillance and reconnaissance tasks
- Special Forces operations.