a
Naval Forces News - UK
Royal Navy amphibious assault ship HMS Ocean Receives Combat System Upgrade by BAE Systems
HMS OCEAN has become the first Royal Navy warship to be operationally deployed with new state of the art computing equipment, known as Shared Infrastructure, demonstrating a step-change in ship technology. Developed by engineers at BAE Systems in collaboration with the Ministry of Defence's (MOD) Maritime Combat Systems team, Shared Infrastructure is an innovative hardware solution that can host software from multiple technology providers on a single system.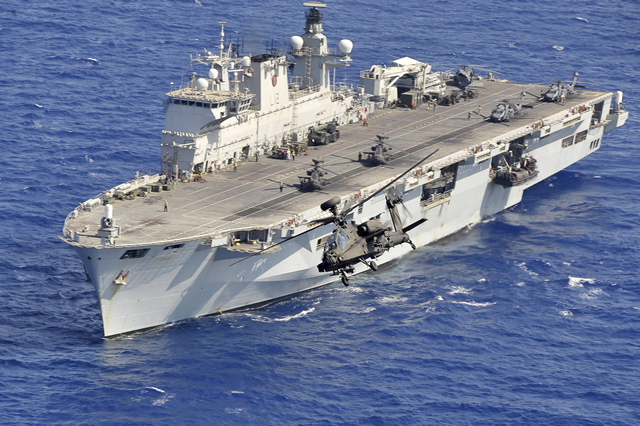 HMS Ocean during Operation Ellamy and the 2011 military intervention in Libya.
Picture: British MOD
This means, for the first time ever, the ship's crew has the capability to access all software, such as navigation, communications and sonar, needed to operate the ship's combat systems through a single console. This provides significant savings to the MOD, including a reduction in the space and power needed for computing equipment, makes it simpler for crew to operate, as well as reducing the amount of spares which are required to be carried on board and therefore significantly decreasing through-life costs.

Jennifer Osbaldestin, Combat Systems Director at BAE Systems Naval Ships, said: "Installing the Shared Infrastructure equipment on board HMS OCEAN introduces a more efficient way of housing the ship's systems. By operating on a single interface, systems can be upgraded as and when required, and capabilities deployed efficiently, ensuring the Royal Navy is best placed to respond to evolving threats.

"This is a fantastic achievement for the teams involved and there is a real sense of excitement as we move into the next phase of installing the technology on board one of the Royal Navy's Landing Platform Dock ships, HMS ALBION, next year."

The deployment of Shared Infrastructure on HMS OCEAN marks an important step towards the Ministry of Defence's vision to establish a common shared architecture across all Royal Navy warships.

Shared Infrastructure is also being deployed on all 13 Type 23 frigates, the Royal Navy's Offshore Patrol Vessels and the second Landing Platform Dock, which is scheduled to be completed over the next 10 years. The installation of the hardware on the Type 23 frigate fleet will also pave the way for creating a coherent shared infrastructure across current and future warships, including the Type 26 Global Combat Ship.

This important technology upgrade programme will help to sustain key engineering skills required to deliver a long-term Technical Authority support to the Ministry of Defence ensuring the UK remains at the forefront of defence. BAE Systems has over 50 years' experience in the design, development and integration of state of the art combat systems for the surface and sub-surface fleet, equipping customers with the best information to operate effectively in modern naval environments.