a
World Naval Industry News - BAE Systems
BAE Systems starts construction of future Royal Navy Offshore Patrol Vessels
Production of the UK Royal Navy's new Offshore Patrol Vessels (OPVs) has started Friday, October 10, with the first steel cut at BAE Systems in Glasgow. Bernard Gray, the Ministry of Defence's (MoD) Chief of Defence Material, formally started construction by operating the plasma steel cutting machine that began shaping the steel for the first of three new ships to be built at the company's facility in Govan.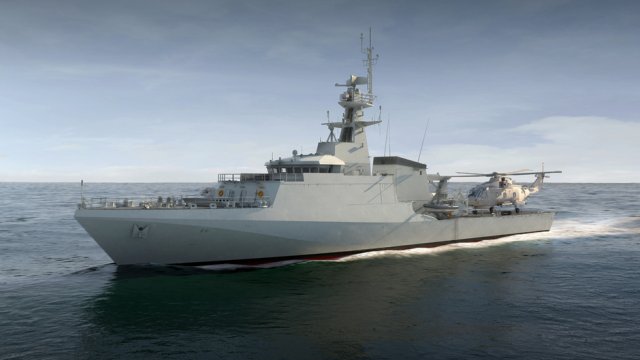 BAE Systems Offshore Patrol Vessel (OPV)
The 90 metre OPV is based on a proven BAE Systems design which is already in service with the Brazilian Navy and Royal Thai Navy. Engineers at BAE Systems have modified the design, ensuring it meets the requirements of the Royal Navy in support of UK interests both at home and abroad.
The vessels will include a modified flight deck capable of operating the latest Merlin helicopters, larger stores and more accommodation for embarked troops. They will also be the first ships to be built with a BAE Systems designed, new state-of-the-art operating system called Shared Infrastructure, which will be rolled out across the Royal Navy's surface fleet over the next ten years. Shared Infrastructure revolutionises the way ships operate by using virtual technologies to host and integrate the sensors, weapons and management systems that complex warships require. By replacing multiple large consoles dedicated to specific tasks with a single hardware solution, the amount of spares which are required to be carried onboard is reduced, significantly decreasing through-life costs.
The manufacturing contract for the three ships was announced in August. The OPVs will be globally deployable and capable of ocean patrol with a range of 5,000 nautical miles and a maximum speed of 24 knots. The first of class is expected to be delivered to the Royal Navy in 2017.