a
Naval Forces News - USA
USS Coronado (LCS 4) Conducts Dynamic Interface Testing with MQ-8B Fire Scout

Sailors aboard
Freedom type Littoral Combat Ship
USS Coronado (LCS 4) recently conducted dynamic interface testing with the MQ-8B Fire Scout Vertical Take-Off and Landing Tactical Unmanned Aerial Vehicle (VTUAV) NAVSEA announced Oct. 16.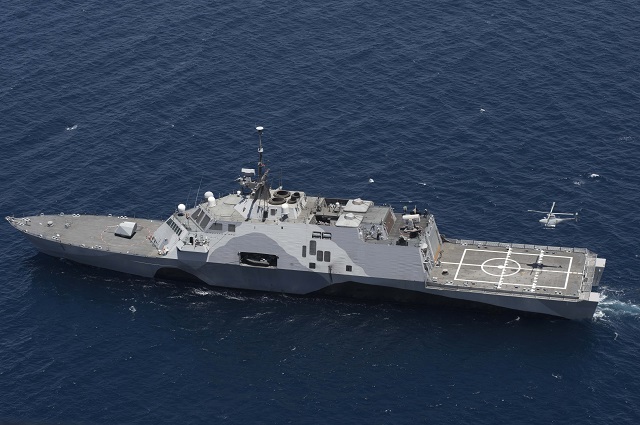 PACIFIC OCEAN (May 12, 2014) An MQ-8B Fire Scout unmanned helicopter assigned to Helicopter Maritime Strike Squadron (HSM) 35 prepares to land on the littoral combat ship USS Freedom (LCS 1) during visit, board, search and seizure (VBSS) training off the coast of Southern California. The training marked the first time a littoral combat ship, an MQ-8B Fire Scout unmanned helicopter and an SH-60R Sea Hawk helicopter conducted integrated VBSS training. (U.S. Navy photo by Mass Communication Specialist 2nd Class Tim D. Godbee/Released)

The tests familiarized the crew with operating unmanned aircraft, verified and expanded the launch and recovery envelopes, and identified opportunities for envelope expansion, thereby demonstrating the future concept of operations for unmanned helicopters aboard LCS.
"VTUAV brings great capability to LCS," said Capt. Tom Anderson, program manager for Littoral Combat Ships, "and will be included as a module within each of the three LCS mission packages. Just as LCS is a modular warship, VTUAV is a modular airframe and will employ specific sensors to support the assigned mission. VTUAV will support mine detection operations with the mine countermeasures mission package, and the 'detect, classify, and identification' mission with the surface warfare and anti-submarine mission packages. I am excited about getting this capability into the hands of the fleet."
LCS is expected to routinely deploy with Fire Scout in addition to a manned MH-60 helicopter as part of its surface warfare (SUW), mine countermeasures (MCM), and anti-submarine warfare (ASW) mission packages. The Fire Scout will complement the MH-60 by extending the range and endurance of ship-based intelligence gathering operations.
Coronado, the second ship of the Independence variant of LCS, completed Final Contract Trials (FCT) in June, participated in RIMPAC exercises in July, and will continue developmental testing of the ship and the SUW mission package in preparation for Initial Operational Testing and Evaluation and Initial Operational Capability. Coronado is scheduled to begin Post Shakedown Availability in October, where she will undergo a maintenance period to correct any deficiencies discovered during FCT.
The LCS class consists of the Freedom variant and Independence variant, designed and built by two industry teams. The Freedom variant team is led by Lockheed Martin (for odd-numbered hulls, e.g. LCS 1). The Independence variant team is led by General Dynamics, Bath Iron Works (LCS 2 and LCS 4) and Austal USA (for subsequent even-numbered hulls). Purchased under the innovative block-buy acquisition strategy, 12 ships are currently under construction.
LCS is a modular, reconfigurable ship, with three types of mission packages: SUW, MCM, and ASW. The Program Executive Office for Littoral Combat Ships is responsible for delivering and sustaining credible littoral mission capabilities to the fleet. Delivering high-quality warfighting assets while balancing affordability and capability is key to supporting the nation's maritime strategy
Link to Freedom class Littoral Combat Ship technical datasheet