a
Naval Forces News - Sweden
Official Statement: Swedish Armed Forces Detects "Probable Underwater Activities"
The intelligence operation that has now been underway for approximately four days in Stockholm archipelago is based on several credible observations. Over the past few days, observations have been made in more than three locations. The Swedish Armed Forces deems all of them to be very credible.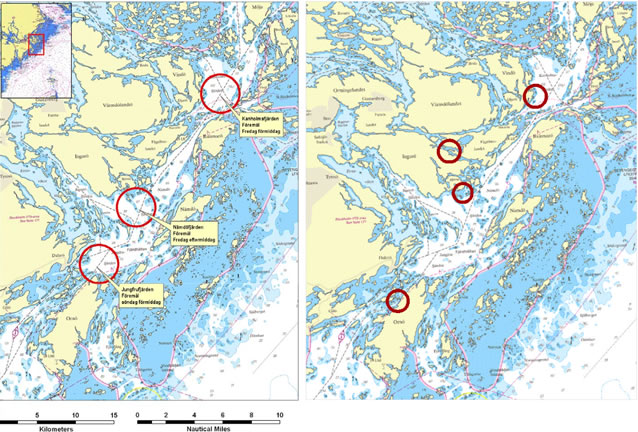 Areas where foreign underwater activity was detected. Source: Swedish Armed Forces

"This means that the intelligence operation now aims to confirm foreign underwater activities", says Rear Admiral Anders Grenstad, Deputy Director of Operations for the Swedish Armed Forces.

The Swedish Armed Forces has established a likelihood that foreign underwater activities are being conducted in the Stockholm archipelago. It is the second highest verification on the Swedish Armed Forces' self-assessment scale, which means that the operation will continue. The Swedish Armed Forces' assessment is also based on a number of observations over the years in a specific area by the Kanholmsfjärden bay.
"I'm unable to comment on these observations in detail, but based on this pattern we can establish that this area is of interest to foreign powers", says Anders Grenstad.


A Visby class stealth corvette is taking part in the search as well as several other assets of the Royal Swedish Navy.

The Swedish Armed Forces has moved the operation area somewhat south but the scope of the operation remains the same. However, the Swedish Armed Forces would like to emphasise that this is not an anti-submarine warfare operation where the purpose is to fight an opponent with arms.

Based on the information currently available the Swedish Armed Forces cannot come to the same conclusion as the media regarding a damaged Russian submarine. The Swedish Armed Forces have no information regarding emergency transmission or that an emergency frequency has been used.

"Observations of underwater activities in general are very complicated. In several cases an event could be based on a single observation and it is the opinion of the Swedish Armed Forces that the activities benefit most from only communicating confirmed observation publically. This is very rare", says Anders Grenstad.

Source: Swedish Armed Forces