a
Naval Force News - Poland
Kongsberg showcasing Polish Navy's NSM Coastal Battery vehicles at MSPO 2014
At MSPO 2014, the International Defense Exhibition currently taking place in Kielce, Kongsberg is showcasing some elements of the NSM (Naval Strike Missile) coastal battery system. The battery is operated by a Polish Navy coastal defence squadron based in Siemirowice (Northern Poland near Gdansk).

The NSM Coastal Defence System is designed for high precision strike missions against high threat targets or highly defended targets at sea or on land up to 200 km and above

Polish Navy personnel explained to Navy Recognition the typical organization of a coatal battery:
The squadron has 2 NSM coastal battery systems. Each battery consists in:
» 3x MLV (Missile Launch Vehicles)
» 1x BCV (Battery Command Vehicle)
» 3x CCV (Combat Command Vehicles)
» 1x MCC (Mobile Communication Center)
» 1x MRV (Mobile Radar Vehicle) with TRS-15C radar

In addition, the squadron has 1x TLV (Transport/Loading Vehicle) and 1x MWV (Mobile Workshop Vehicle)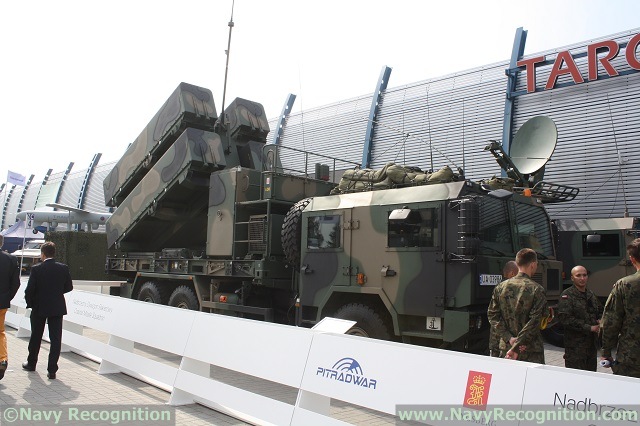 MLV (Missile Launch Vehicle) of the Polish Navy NSM coastal battery at MSPO 2014
At MSPO 2014, there are 3 NSM coastal battery vehicles on display:

1- The Missile Launch Vehicle (MLV) carries up to four Naval Strike Missiles and is connected to the Combat Command Vehicle (CCV) command post via radio and/or optical fibre. The launcher can be deployed and remotely controlled up to 10 km away from the CCV.

The MLV can fire the four NSMs in seconds against a single and/or different targets enabling multiple simultaneous engagements. Up to 6 launchers with 24 missiles can be netted and all missiles are ready to fire.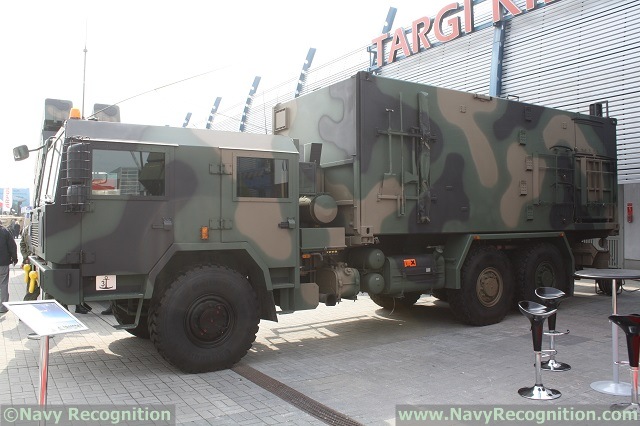 BCV (Battery Command Vehicle) of the Polish Navy NSM coastal battery at MSPO 2014
2- The Battery Command Vehicle (BCV) is the central integrating element for the NSM Coastal Defence System and provides BMC4I for current and future coastal defense missons. The BCV can control up to 3 Combat Command Vehicles. The BCV is flexible, scalable and interoperable. The open software/hardware architecture allows insertion of new technology when available.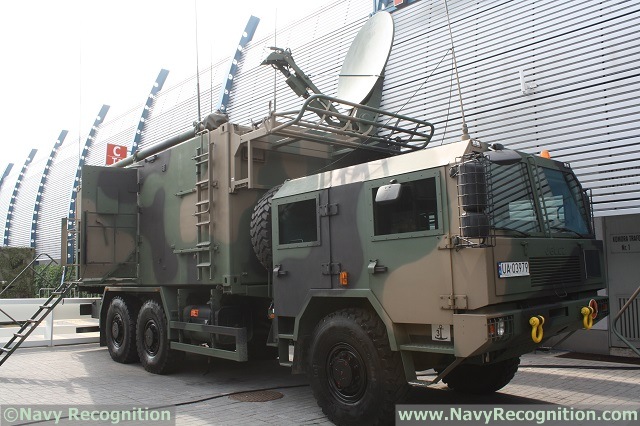 MCC (Mobile Communication Center) of the Polish Navy NSM coastal battery at MSPO 2014
3-
The Mobile Communication Center (MCC)
constitutes the main core network within the NSM coastal defence system and provides establishement, control and management of all internal and external data & voice communication.
The MCC supports a variety of communication means such as SATCOM, HCLOS, IP/HF/VHF radios, and fiber cable connections. The MCC enables connection to tactical data links as Link 16, Link 11 A & B and the coastal radar chain LEBA
Check out our technical datasheet to learn more about the NSM