a
Naval Industry News - Italy, Algeria
Italian shipyard Fincantieri delivered amphibious ship Kalaat Beni-Abbes to Algerian Navy

On September 4, 2014 at the Fincantieri Muggiano shipyard (in La Spezia) the Algerian Navy took delivery of the Kalaat Beni-Abbes BDSL (Batiment de Débarquement et de Soutien Logistique) amphibious vessel. The vessel was ordered in 2011 by the Ministry of Defence of the People's Democratic Republic of Algeria from Orizzonte Sistemi Navali, a company controlled by Fincantieri in which Selex ES also holds an interest, to serve as the national Navy's new flagship.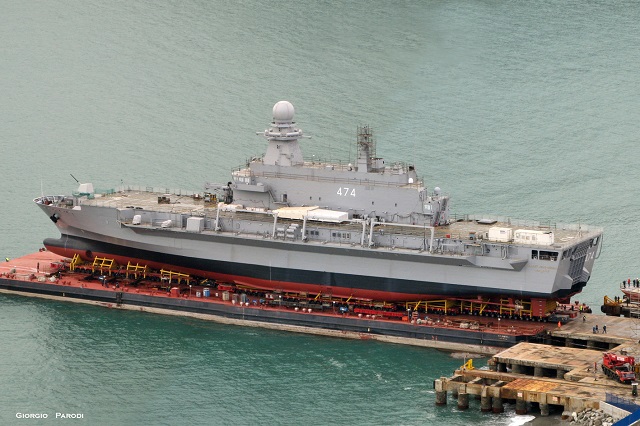 Algerian Navy future amphibious vessel Kalaat Beni-Abbes
Picutre: Giorgio Parodi
The "Kalaat Beni-Abbes" (which belongs to the BDSL class - Bâtiment de Débarquement et de Soutien Logistique) is a landing platform dock (LPD) ship, developed as a technological enhancement of the Italian "San Giusto" amphibious class vessel and retaining and perfecting some of the latter's most significant features. The most important of these is the presence of an internal floodable dock, capable of accommodating a ready-to-go chaland (a 20-metre landing craft); the other two landing craft of the same size can travel attached to the ship's deck, and can be deployed using a system of davits. If necessary, the dock can be emptied to accommodate other types of vehicles.

The contract, of particular importance internationally, also includes the provision of logistical support to the customer during crew training. In fact, the training of Algerian personnel by the Italian Navy, taking place since 2013, is using the facilities of the Fincantieri Training Academy, a project initiated by Fincantieri in conjunction with the Italian Navy with the aim of training the crew of ships in the process of delivery.
Fincantieri Training Academy, which is already serving the United Arab Emirates Navy, is a positive example of cooperation between the armed forces and industry through which Italy's naval excellence is made available to Navies around the world.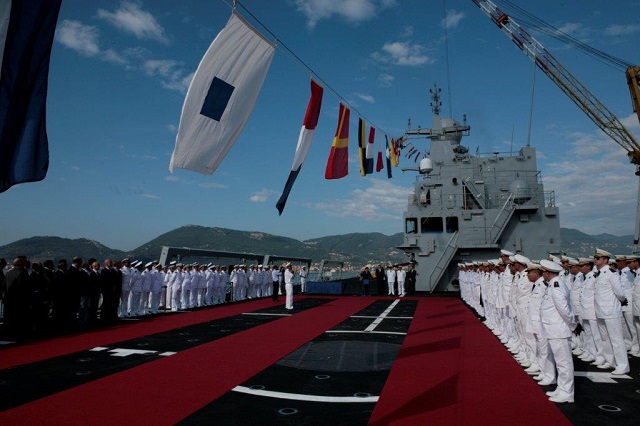 The delivery ceremony onboard Algerian Navy BDSL (Bâtiment de Débarquement et de Soutien Logistique) Picture: Fincantieri
The Kalaat Beni-Abbes is fitted with a powerful weapons suite which is unusual for this type of vessels:
- MBDA SAAM-ESD (Aster missiles + A50 launcher Sylver) behind the island superstructure
- 1x OTO Melara Super Rapid76-mm/62 at the bow
- 2x 25mm remote weapon stations

The electronic suite includes Selex Sistemi Integrati EMPAR + AESA radar of CICS Athena-C + navigation radar and flight control by -gosopoznavaniya SIR + Communication system supplied by Selex Elsag + EW systems produced by Elettronica and Thales + two SCLAR-H decoy launchers

This new amphibious vessel can accommodate 3 Landing Craft Mechanized (LCM) + 3 small Landing Craft Vehicle Personnel (LCVP) + 1 large Landing Craft Personnel (LCP) + 2 semi-rigid boats. The hangar can accommodate up to 15 armored vehicles.
The crew will consist in 150 sailors while the ship may accomodate a landing force of 440 soldiers.

Basic Specifications:
-Total displacement = 9000 tons
-Length = 142.9 meters
-Width = 21.5 meters
-Flight deck with two runways and landing pads for heavy-lift helicopters in the extremities and 30-ton lift in the central part of the deck
-The power plant includes two diesel engines Wärtsilä 12V32 rated at 6000 kW
-The maximum speed = 20 knots
-Cruising range = 11,265 km
-Generation of electricity will be provided by four diesel generators Isotta Fraschini V1716 C2ME capacity of 1300 kW and one emergency V1708 T3 of 600 kW