a
Naval Forces News - France
First Air Strike with GBU-12 Against ISIL in Iraq for French Navy ATL2 Maritime Patrol Aircraft
The Marine Nationale (French Navy) announced that one of its Atlantique 2 (ATL 2) Maritime Patrol Aircraft (MPA) taking part in Operation Chammal (name of the French military operationin Iraq against ISIL) hit a target with a GBU-12 laser guided bomb. The strike mission which took place on August 19 2015 was a first for a French Navy MPA during Operation Chammal.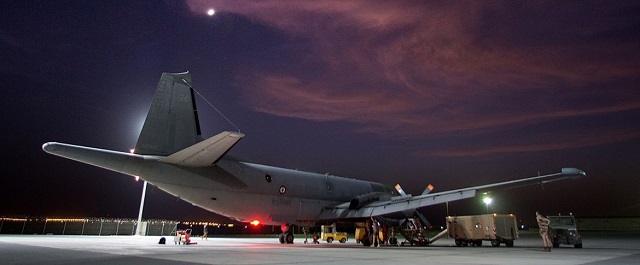 Four GBU-12 bombs are prepared and fitted to a French Navy ATL2 MPA (deployed at Al Dahfra air base in the UAE ) in order to be dropped during a night mission in the framework of Operation Chammal. Picture: ©/Armée de l'air/EMA
According to the French Navy, the ATL2 MPA joined two French Air Force (Armée de l'Air) Mirage 2000 around 22h00. Together they participated in a planned mission that led to the neutralization of a building belonging to terrorist group Daech. The building was used for transit operations and as a command and control post.

This strike mission by an ATL2 is part of a wide range of air missions ordered by the CAOC (combat air operations center) to the various coalition countries taking part in Operation Inherent Resolve.

Every day, the CAOC dispatch an ATO (Air Task Order) which orders the execution of all air missions of the coalition. France is one of the few countries among the sixty that make up the coalition which can participate in the whole spectrum of air missions that are needed to conduct the "global air plan" of the coalition.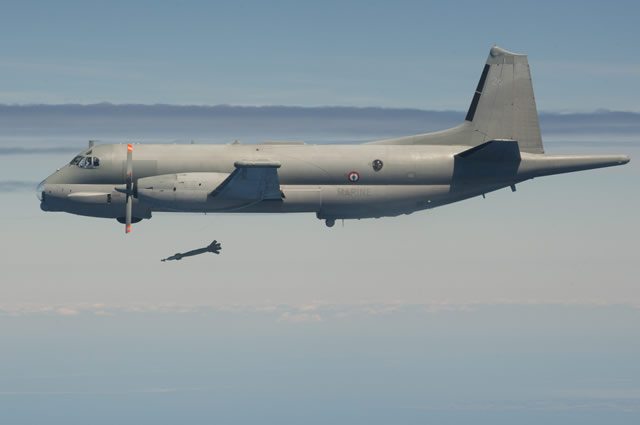 Archive image: A French Navy ATL2 Maritime Patrol Aircraft Fires a GBU-12 Paveway II laser-guided bomb during qualification trials. Picture: J.Pons©Marine Nationale
The French Navy didn't provide details but the Mirage 2000 probably laser designated the target to the GBU-12 dropped by the ATL2 eventough the French MPA can now
self designate its own bombs
thanks to the Wescam MX-20D electro-optical turret. Not all ATL2 are fitted with this gimbal however (only ATL2 Standard V aircraft).
While stike missions are a new thing for the French ATL2, they've been
deployed on theater since the beginning
of Operation Chammal and prove to be valuable assets for ISTAR (Intelligence, surveillance, target acquisition, and reconnaissance) missions. They also act as forward air control for aircraft on theater.