a
Naval Forces News - Israel, Germany
Design of Future TKMS Built Saar 6 MEKO A100 Corvettes for Israeli Navy Unveiled
Israeli web portal
Walla!
recently published an interview with the head of the Israeli Navy's equipment division, Moshe Zana, who provided some details on the SAAR 6 vessel project ordered from Germany.
Speaking during the Israel Air Force ceremony on December 25th 2014, Israeli Prime Minister Benjamin Netanyahu announced that Israel ordered four new patrol vessels from Germany:
"Today, I am pleased to announce that three days ago, we added an important component to our defensive force. We purchased four new Saar vessels from Germany".
The Israeli Ministry of Defense completed in May 2015 the negotiations for purchase of four patrol boats. The main goal of this new procurement is the protection of Israel's Economic Exclusion Zone (EEZ) where oil and gas production is booming in the sea off west coast of the country. The volume of the transaction is estimated at approximately 430 million euros. (Germany has agreed to fund €115 million of this total).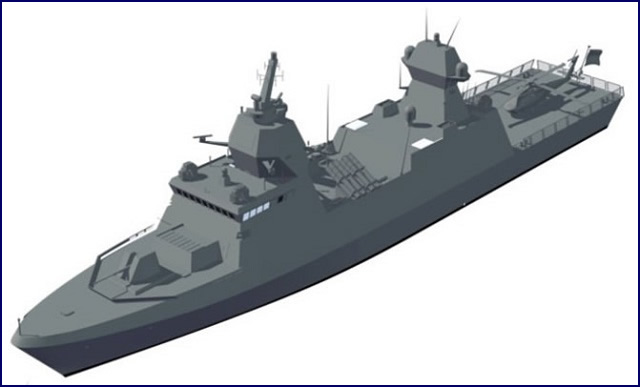 The future Israeli Navy Saar 6 corvette. Picture: TKMS/Israeli Navy via bmpd.livejournal.com
Early sources from Germany indicated that the future Israeli Navy patrol vessels are based on the MEKO 80 designed and built by German group ThyssenKrupp Marine Systems (TKMS). MEKO 80 patrol corvette is a slightly reduced version of the MEKO 100 (of which 6 were built for the Royal Malaysian Navy and one under
construction in Poland
for the Polish Navy).
It appears clear now from the images that Saar 6 vessels will not just be "Patrol Vessels" as initially reported but rather powerful Corvettes with a displacement of about 2,000 tons and a length of about 90 meters.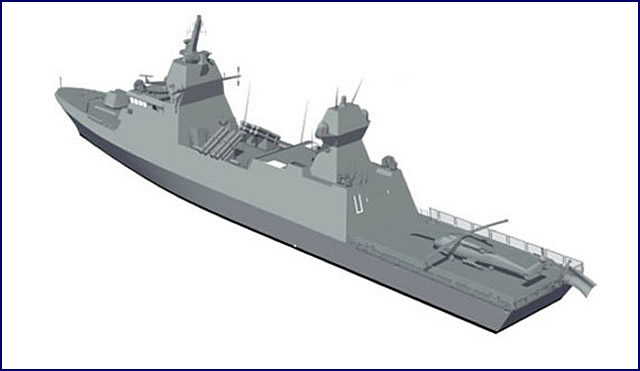 The future Israeli Navy Saar 6 corvette. Picture: TKMS/Israeli Navy via bmpd.livejournal.com
Saar 6 class corvettes will be heavily armed: They are set to be fitted with up to 40x (most likely 32x) VLS cells for
surface to air missile system Barak 8
by Israel Aerospace Industries (IAI) and
C-DOME
naval point defense system by Rafael, 16x anti-ship missiles and the
MF-STAR multifunction AESA radar
by IAI.
The main gun is set to be a 76mm Oto Melara Super Rapid (possibly with
Strales guided rounds
). In addition, Saar 6 will be fitted with 2x Rafael's Typhoon remote weapon stations and two 324mm torpedo launchers.
Saar 6 corvettes will have hangar space and platform able to accommodate a medium class (SH-60 type) helicopter.
All four vessels are expected to be built in Kiel, Germany (where TKMS is currently assembling 2 other powerfull corvettes, the
MEKO A200 AN for Algeria
) while systems outfitting (combat management system, sensors and weapons) will most likely be conducted in Israel. The first Saar 6 corvette is set to join the Israeli Navy in 2019.