a
Naval Forces News - Poland
Polish Navy Kormoran II Class Mine Countermeasures Vessel to be Launched on September 4th
The Polish Navy new generation mine countermeasures vessel (MCMV) Kormoran II will be launched on September 4 2015. The vessel is designed by Remontowa shipbuilding (Gdanska Stocznia "Remontowa" im. J. Pilsudskiego S.A.) based in Gdansk. The Kormoran II launch closely follows the launch of a new OPV for Polish Navy which
took place in July
. This was the first vessel naval ship launch in Poland for years.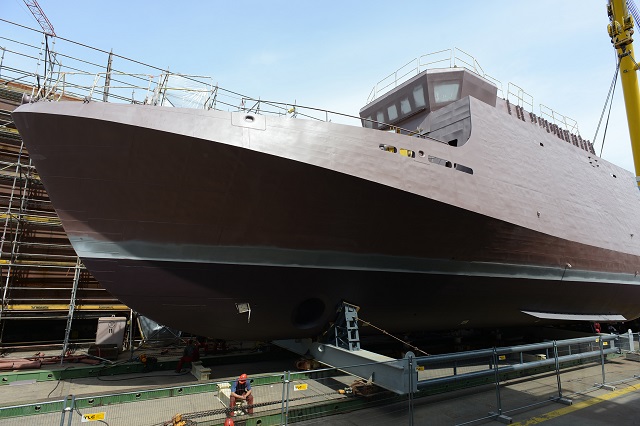 Kormoran II class MCMV for Polish Navy before the launch. Picture: Inspektorat Uzbrojenia
According to Remontowa shipbuilding, Kormoran II is dedicated to mine hunting tasks in Polish EEZ (Exclusive Economic Zone), as well as in tactical task forces in Baltic and North Sea and other auxiliary tasks defined by Polish Ministry of Defense. The vessel will be designed with great care to achieve low signature and high maneuverability, thanks to use of cycloid propellers driven by diesel engines.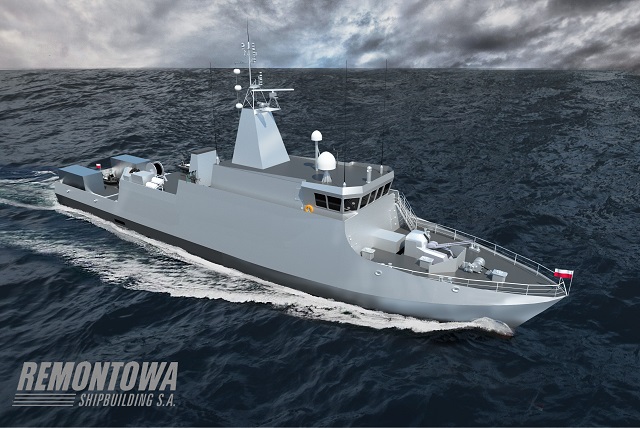 Artist impression of the Kormoran II class of MCM vessel. The ship is designed to locate and neutralize mines in the waters of the Polish maritime economic zone.
Image: Remontowa shipbuilding
Defence and security company Saab
announced in June 2014
that the Polish Navy has chosen the Double Eagle system for the Kormoran II MCMV. The Double Eagle is in service with several navies, in the Baltic Sea, in the North Sea and around the world as a state of the art, well proven, low risk and extremely efficient mine countermeasures (MCM) underwater vehicle.
We reported during
Balt Military Expo 2014
that ZM Tarnow will be supplying a new 35mm turret for the Kormoran II program.
Research and Development Facility of Centrum Techniki Morskiej S.A (ORB CTM) is in charge of developing and integration of the combat management system for Kormoran II.
Kormoran II class basic specifications:
Overall length 58.50 m
Max width 10,30 m
The height of the forecastle deck 6.40m
The height of the main deck aft 4,70 m
Displacement 850 t
Link to video interview about Kormoran II project with representatives from Remontowa and CTM.