a
Naval Defense Industry News - USA
Cobham to Assemble Antenna Array Panel Assemblies for Lockheed Martin & US Navy SEWIP

Cobham recently received a Low Rate Initial Production (LRIP) award for the production of Antenna Array Panel Assemblies (AAPAs) from Lockheed Martin Corporation, Liverpool, N.Y. The AAPAs are used in the Block II configuration of the Navy's Surface Electronic Warfare Improvement Program (SEWIP). Work under this contract will be performed by Cobham Integrated Electronic Solutions, a business unit of the Cobham Advanced Electronic Solutions sector, in Lansdale, Pa.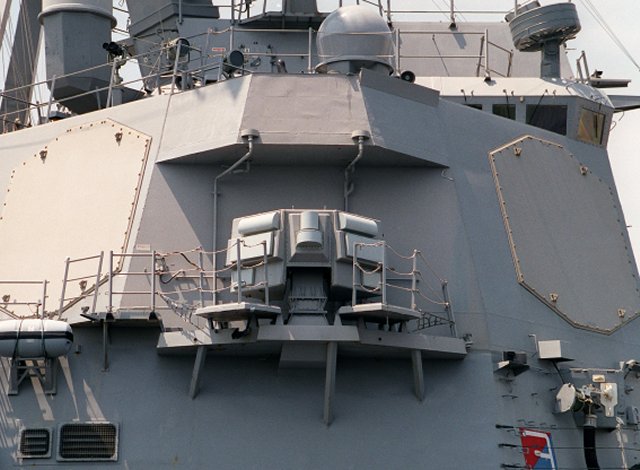 AN/SLQ-32 Electronic Warfare (EW) system aboard the USS MCFAUL
"This contract further solidifies the strong relationship between Cobham, Lockheed Martin and the Naval Sea Systems Command," said Jim Barber, Senior Vice President and General Manager of Cobham Integrated Electronic Solutions. "Our technical expertise and decades of experience in RF antennas/arrays and electronic subsystems used in critical DoD applications have positioned us for this win. Cobham's interferometer-based array technology greatly enhances the SEWIP Block II program's detection and reporting accuracy against modern threat systems and improves overall shipboard combat effectiveness. We are very proud to be a member of the SEWIP team."

The SEWIP program upgrades existing out-of-production AN/SLQ-32(V) electronic warfare systems. Block II is the latest in an evolutionary succession of improvement phases the Navy is pursuing for its shipboard electronic warfare system, which will incrementally add new defensive technologies and functional capabilities such as improved electronic support receivers and combat system interfaces. The Naval Sea Systems Command, Washington, D.C., manages the contracting activity for the SEWIP Block II procurement.