a
Naval Forces News - USA
U.S Marines from MARSOC and U.S. Coast Guard Demonstrated Small UAS Capabilities
The U.S. Coast Guard and Marines from MARSOC joined forces to demonstrate the ability to launch and recover several small size unmanned aircraft systems (UAS) from the Coast Guard's smallest boats. MARSOC is the United States Marine Corps Forces Special Operations Command.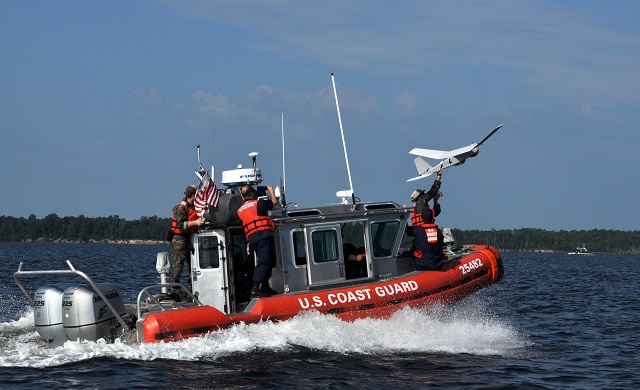 A member of the Marine Corps Special Operations Command (MARSOC) launches an RQ-20A Puma unmanned aircraft Aug. 12 during an exercise near Camp Lejeune. US Navy picture.
Three UAS were tested:
- The AeroVironment RQ-20 Puma which primary mission is surveillance and intelligence gathering using an electro-optical and infrared video camera. It maximum takeoff weight is 13 lb (5.9 kg).
- The AeroVironment RQ-12A Wasp IV which provides a means for Marine Corps units to see the battle space beyond the restrictions of line-of-sight, fulfilling the need for real-time reconnaissance, surveillance, and target acquisition (RSTA) and battle damage assessment (BDA). It weights 2.75 lbs (1.2 kg).
- The Physical Sciences InstantEye which is a low-cost aerial system that can be hand launched/recovered by a single person in any weather. The vehicle weighs less than one pound.

These battery-powered, hand-launched systems provide real-time, day and night reconnaissance, surveillance and target acquisition.

The UAS were tested from USCG 25-Foot Defender Class Boat and 32 foot Transportable Port Security Boat.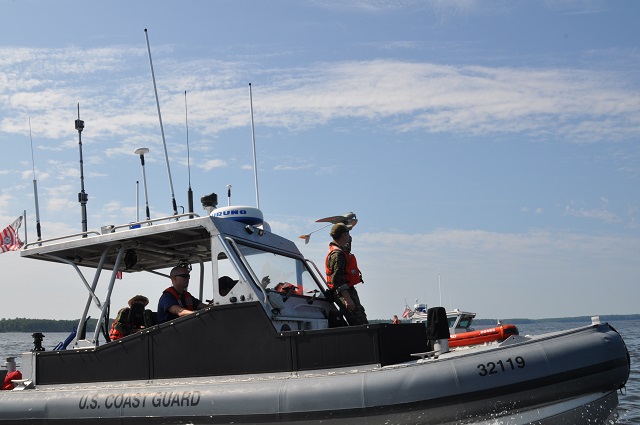 Marine and Coast Guard personnel launch an RQ-12A Wasp IV unmanned aircraft Aug. 12 during a joint exercise near Marine Corps Base Camp Lejeune, N.C. (U.S. Navy photo)
A Marine launches an InstantEye vertical takeoff and landing unmanned aircraft system (UAS) Aug. 12 during an exercise with the Coast Guard off the coast of North Carolina. (U.S. Navy photo)