a
Naval Forces News - USA
U.S. Navy New Research Vessel Neil Armstrong (AGOR 27) Completes Acceptance Trials
The first-of-class Oceanographic Research Vessel R/V Neil Armstrong (AGOR 27), successfully completed Acceptance Trials August 7 the Navy reported today. Neil Armstrong is a modern mono-hull research vessel based on commercial design, capable of integrated, interdisciplinary, general purpose oceanographic research in coastal and deep ocean areas.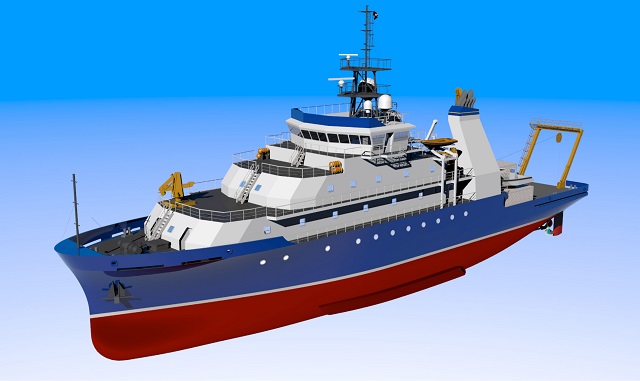 An artist's rendering of the Armstrong-class auxiliary general oceanographic research vessel (AGOR). AGOR ships are modern oceanographic research platforms capable of satisfying a wide range of research activities in oceanographic research. The ships will join the U.S. Academic research fleet, supporting critical naval research throughout the world's oceans. (U.S. Navy photo/Released)
The Navy's Board of Inspection and Survey (INSURV) found the ship to be well-built and inspection-ready. The trials evaluated the ship's major systems and equipment to include demonstrations of the ship's main propulsion system, dynamic positioning system, navigation, cranes and winches, and communication systems.

"These trials are the final major milestone prior to delivering Neil Armstrong," said Mike Kosar, program manager for the Support Ships, Boats and Craft office within the Program Executive Office, Ships. "Neil Armstrong performed very well during these trials, especially for a first of class vessel. The results of these tests and the outstanding fit, finish and quality of the vessel, stand as a testament to the preparation and effort of our entire shipbuilding team. It reflects the exceptionalism of AGOR 27's namesake, Neil Armstrong."

Acceptance trials represent the cumulative efforts following a series of in-port and underway inspections conducted jointly by the AGOR Program Office, SUPSHIP, and builder Dakota Creek Industries throughout the construction, test and trials process. The trials are the last significant shipbuilding milestone before delivery of the ship to the Navy, expected to occur this fall.

The new ship is 238 feet long and equipped with the latest technologies, including a high-efficiency diesel engine, emission control for stack gasses, information technology tools for monitoring shipboard systems and communicating with the world, and hull coatings that should result in fewer maintenance issues. It will operate with a crew of 20 with accommodations for 24 scientists who will use the ship and its assets to collect samples and data from both coastal and deep ocean areas.