a
Naval Forces News - USA
Raytheon and U.S. Navy Collaborate to Optimize LCS' AN/AQS-20A Minehunting Sonar

Raytheon Company is working closely with the Naval Undersea Warfare Center (NUWC) – Division Newport to enhance the features of the company's AN/AQS-20A minehunting sonar. Together, the team is analyzing the system's synthetic aperture sonar to fully optimize its ability to capture and process high- and low-resolution images of mine threats undersea.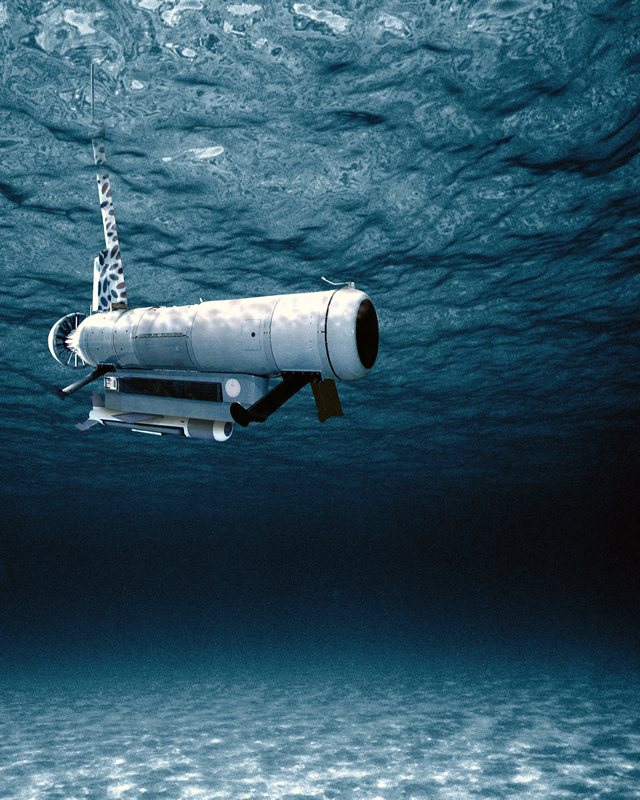 The Remote Minehunting System (RMS) is an organic, off-board mine reconnaissance system that will offer carrier battle group ships an effective defense against mines by using an unmanned remote vehicle. U.S. Navy photo courtesy of Lockheed Martin.
"Extending our long history of collaboration with our NUWC neighbors, this project brings together our respective sonar experts to maximize the performance of a critical undersea warfare capability," said Kevin Peppe, vice president of Raytheon Integrated Defense Systems' Seapower Capability Systems. "Our goal is to build on the system's proven performance and further the advantage that AN/AQS-20A provides to the Navy to safely detect and effectively identify these undersea threats."

Under a 'work for private party' contract funded by Raytheon, NUWC joins the ongoing initiatives of the AN/AQS-20A team which has been providing these systems to the U.S. Navy for more than 10 years. The system leverages advanced sonar technologies to support the Navy's critical minehunting missions, ensuring safe access and passage for military and civilian vessels on the world's oceans and waterways.

Enhancements provided by the synthetic aperture sonar include higher-quality imaging of objects found deep undersea to aid in the identification and classification of mines. Through a series of lab- and sea-based tests, the team will extensively evaluate and exercise the sonar's features to optimize the quality of both high- and low-resolution imaging.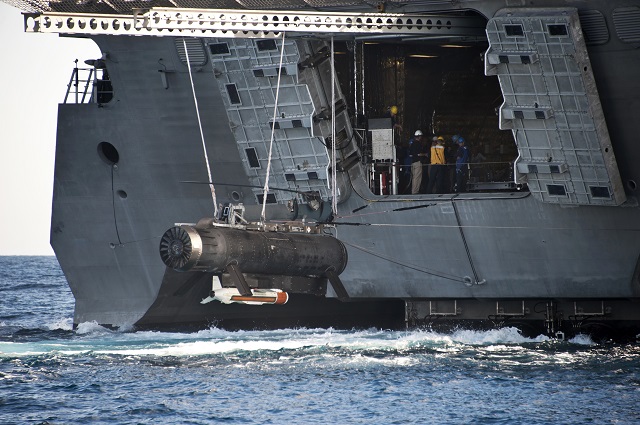 GULF OF MEXICO (Jan. 7, 2012) The Remote Minehunting System (RMS) and an AN/AQS-20 mine hunting sonar are brought aboard the littoral combat ship USS Independence (LCS 2) during developmental testing of the mine warfare mission module package.
(U.S. Navy photo by Ron Newsome/Released)
About AN/AQS-20A
Deployed from the Littoral Combat Ship (LCS) as the variable depth sonar for the AN/WLD-1 Remote Minehunting System (RMS), AN/AQS-20A is a critical element of the U.S. Navy's mine countermeasure capability, and the only minehunting sonar sensor developed, tested and certified for Remote Multi-Mission Vehicle (RMMV) deployment. It is the most advanced and capable mine warfare sensor system, uniquely providing detection and classification through the integration of multiple sensors.

The AN/AQS-20A system is towed undersea to simultaneously scan the water column for anti-shipping mines forward of, to the sides, and beneath the vehicle. Sophisticated sonar, electro-optical sensors, and high-precision location information are used to provide high-resolution images of mines and mine-like objects.

End-to-End Mine Countermeasure Capability
Raytheon provides both a modern minehunting and mine neutralization capability to the U.S. Navy, which are two of the components in the mine countermeasure mission package for the Littoral Combat Ship class. Supporting mine-clearing operations in both deep-ocean and littoral waters, AN/AQS-20A minehunting sonar detects, localizes bottom, close-tethered and volume mines, and identifies bottom mines. The AN/ASQ-235 Airborne Mine Neutralization System (AMNS) reacquires and neutralizes mines found by the AN/AQS-20A. AMNS consists of a helicopter-deployed launch and handling system equipped with four unmanned Archerfish™ neutralizer vehicles which destroy mines via remote control from the operator in the MH-60S helicopter.

The advanced technologies of these systems deliver a comprehensive, end-to-end solution – detection to neutralization – enabling the Navy to safely and effectively execute its mission with reduced risk to its ships and crews.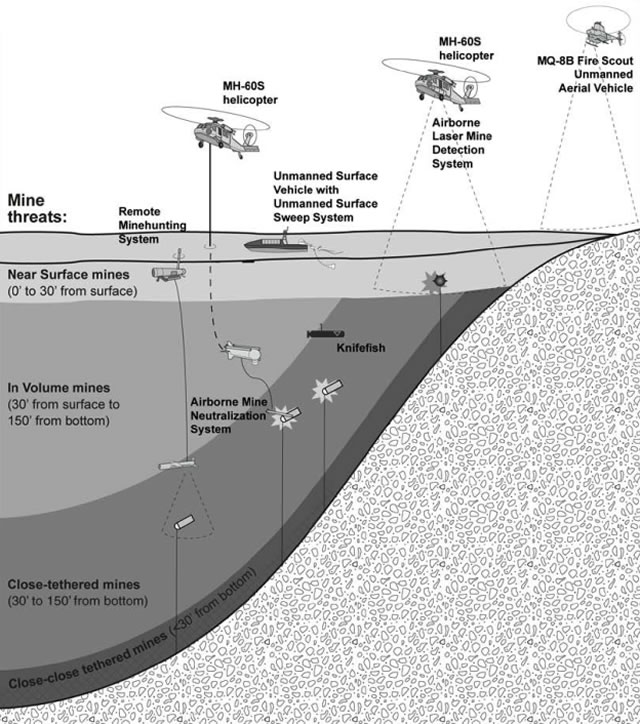 Sketch explaining the various components of the Littoral Combat Ship Mine Countermeasure Mission Package (LCS MCM MP). Source: U.S. Government Accountability Office
The LCS MCM mission package conducts its mine countermeasures operations through the employment of aviation assets and unmanned surface, semi-submersible, and submersible vehicles, equipped with an array of sensors and systems to detect, localize, neutralize, and sweep mines. These systems are designed to be employed while the LCS remains outside the mine threat area. Future mission package increments add capability, including beach zone mine detection, mine sweeping, near surface mine neutralization, and buried and surf zone mine detection.

LCS MCM MP Features:

Remote Minehunting Module
» AN/WLD-1(V) Remote Multi-Mission Vehicle (RMMV) (2)
» AQS-20A
» Cradle Pallet Assembly
» Capture Spine
» Support Containers

Near Surface Detection Module
» MH-60S Helicopter
» AN/AES-1 Airborne Laser Mine Detection System (ALMDS)
» Support Containers

Airborne Mine Neutralization Module
» MH-60S Helicopter
» AN/ASQ-235 Airborne Mine Neutralization Systems (AMNS)
» EX 64 neutralizers
» Support Containers

Coastal Mine Reconnaissance Module
» AN/DVS-1 Coastal Battlefield Reconnaissance and Analysis (COBRA) System
» MQ-8B Vertical Takeoff Unmanned Aerial Vehicle (VTUAV)
» Support Containers

Unmanned Mine Sweeping Module
» Unmanned Surface Vehicle (USV)
» Unmanned Surface Sweep System (USSS)
» Support Containers

Buried Mine Hunting Module
» Surface Mine Countermeasure Unmanned Underwater Vehicle (SMCM UUV) (Knifefish)
» Launch, handling and recovery equipment
» Support Containers

Mission Package Application Software (MPAS)
» Mission specific application software that support the MP in planning and executing the MCM missions
» Mine Warfare and Environmental Decision Aids Library (MEDAL)