a
Naval Forces News - USA
U.S. Navy, Lockheed Martin Conduct First LRASM Captive-Carry Flights on F/A-18E/F
Lockheed Martin and the U.S. Navy recently completed the first
Long-Range Anti-Ship Missile (LRASM)
prototype captive-carry flight tests on the F/A-18E/F Super Hornet. The flights were conducted at Patuxent River Naval Air Station, Maryland.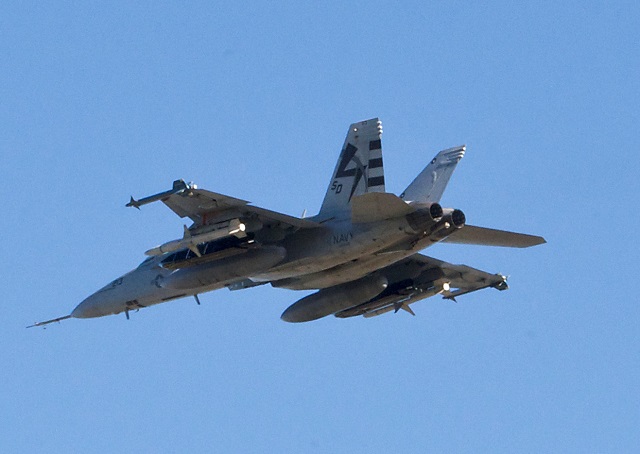 U.S. Navy photo
These initial airworthiness flight tests used a LRASM mass-simulator vehicle attached to the Navy's F/A-18E/F to evaluate flight and handling characteristics, as well as to measure structural loads and strains on the aircraft. A future series of tests would gather noise and vibration data between the aircraft and the missile.

"The LRASM airworthiness flights on the Super Hornet put us one step closer to fielding this urgently needed capability for our warfighters," said Mike Fleming, LRASM director at Lockheed Martin Missiles and Fire Control. "The flight data acquired validates the LRASM system design and clears the way for the test program to continue."
Video: An F/A-18 E/F carrying a model of the Long-Range Anti-Ship Missile (LRASM) flies over Naval Air Station Patuxent River, Md., Nov. 3 for initial airworthiness testing.
Airworthiness tests ensure safety of flight for the aircraft and the crews who employ them. Completion of integration and airworthiness tests are required for all munitions prior to a DoD initial operational capability decision.
LRASM is a precision-guided, anti-ship standoff missile based on the successful Joint Air-to-Surface Standoff Missile Extended Range (JASSM-ER), and is designed to meet the needs of U.S. Navy and Air Force warfighters in anti-access/area-denial threat environments. JASSM-ER, which recently completed its operational test program, shares a significant number of parts and assembly processes with LRASM, which would result in cost savings for the U.S. Navy and Air Force offensive anti-surface warfare programs.
LRASM is designed to detect and destroy specific targets within groups of ships by employing advanced technologies that reduce dependence on intelligence, surveillance and reconnaissance platforms, network links and GPS navigation in electronic warfare environments. Once operational, LRASM will play a significant role in ensuring military access to operate in open ocean/blue waters and the littorals due to its enhanced ability to discriminate and conduct tactical engagements from extended ranges.
To learn more:
Link to LRASM Long Range Anti-Ship Missile technical datasheet