a
Naval Forces News - Saudi Arabia
US Government Cleared MH-60R Romeo Helicopters Sale to Royal Saudi Navy
The U.S. Defense Security Cooperation Agency has approved the possible sale of 10 Lockheed Martin (Sikorsky) built MH-60R "Romeo" multi-role helicopters to Saudi Arabia for $1.9 billion. This is another step in a major multibillion-dollar modernization of the Saudi navy's eastern fleet called SNEP II (Saudi Naval Expansion Program). SNEP II includes the possible sale of four Multi-Mission Surface Combatant (MMSC) Ships as well,
as we reported in October.
Update: On December 23, 2015, the U.S. Department of Defense awarded Lockheed Martin an $117,152,307 modification to a previously awarded firm-fixed-price contract (N00019-11-C-0020) for the manufacture and delivery of 10 MH-60R Mission Avionics Systems and Common Cockpits for the government of Saudi Arabia under the Foreign Military Sales program.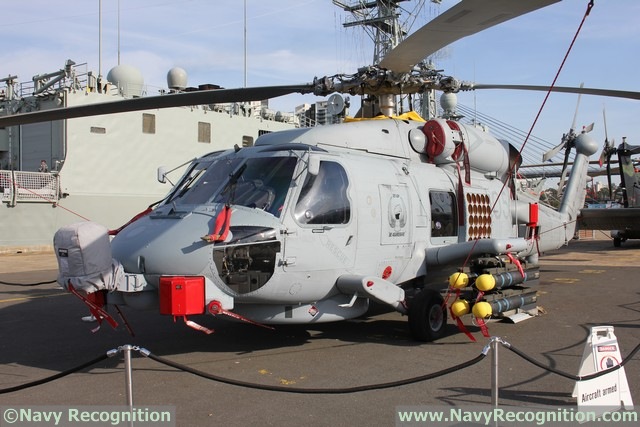 Royal Australian Navy MH-60R Helicopter at the PACIFIC 2015 static display
According to the U.S. Defense Security Cooperation Agency, the proposed sale will improve Saudi Arabia's capability to meet current and future threats from enemy weapon systems. The MH-60R Multi-Mission Helicopter will provide the capability to identify, engage, and defeat maritime security threats along with the ability to perform secondary missions including vertical replenishment, search and rescue, and communications relay. Saudi Arabia will use the enhanced capability as a deterrent to regional threats and to strengthen its homeland defense.

The deal includes a number of associated weapon and sensor systems including 38 AGM-114R Hellfire II missiles, 380 Advanced Precision Kill Weapons System (APKWS) rockets and 1000 AN/SSQ-36/53/62 Sonobuoys.

Manufactured by Sikorsky Aircraft Corp and provided with advanced mission systems and sensors by Lockheed Martin, the MH-60R employs a modular design, which refers to the ability to modify weapon systems to match specific mission requirements. The modularity gives this single platform the agility to provide greater surveillance and flexibility to the Fleet, tailored for the mission. Aboard the MH-60R, sensor data is integrated into actionable information for the three-member crew. The mission systems compile data from onboard and offboard sensors to create an integrated picture that enhances decision-making.

Secondary missions include search and rescue, vertical replenishment, naval surface fire support, logistics support, personnel transport, medical evacuation, and very high frequency, ultra high frequency link communication relay.

The U.S. Navy is projected to acquire 291 MH-60R helicopters. The Lockheed Martin-Sikorsky team has also delivered five of 24 aircraft to the Royal Australian Navy and began production for the Royal Danish Navy, which will acquire nine aircraft.