a
Naval Forces News - Italy
Italian Navy Maestrale class Frigate ITS Scirocco in French Navy GABIAN Exercise
The Italian Navy (Marina Militare)
Maestrale class frigate
ITS
Scirocco
took part in the GABIAN exercise of the French Navy (Marine Nationale). The exercise aims at training the ship's teams in a wide range of fields, from anti-aircraft warfare, to shooting with onboard cannons, to simple and complex anti-fire defence operations, to boarding suspect merchant cargoes; all to recreate operational scenarios where military units can be engaged.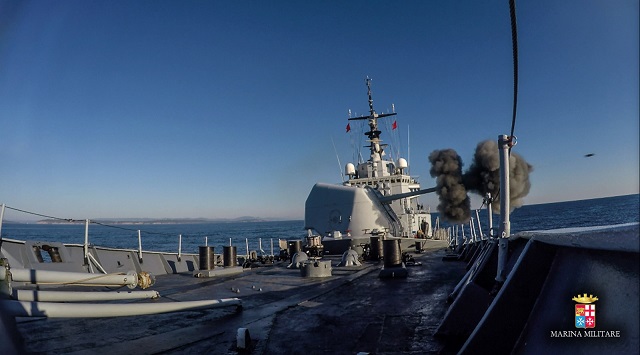 ITS Scirocco shooting with her main gun (127-mm 54-cal. OTO Melara DP) during GABIAN 2015
Following an intense training last November for the crew members, and a call at Toulon port, ITS Scirocco has set sail for Lion Gulf, to join the flotilla led by the French amphibious ship Tonnerre (
Mistral class
) and her sister unit Dixmude, two
La Fayette class frigates
, several D'Estienne D'Orves class corvettes and other units.
The activities at sea, intense and at a strong pace, have also allowed to test the efficiency of the weapon systems onboard, especially during very realistic exercises with radio- controlled aerial targets used to assess the shooters precision.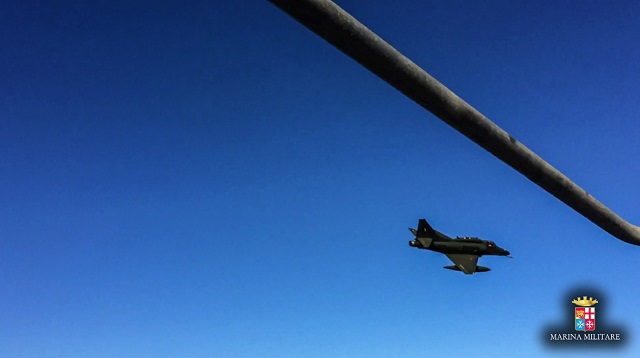 A Douglas A-4 Skyhawk acting as an agressor simulates an air attack on ITS Sirocco during the AAW part of GABIAN exercise. The aircraft belongs to private US company Draken International.