a
Naval Industry News - Russia
2 New Project 22800 Corvettes Uragan & Typhoon Laid Down by Pella Shipyard for Russian Navy
Two new Project 22800 guided missile corvettes were laid down for the Russian Navy by the Pella Shipyard in St. Petersburg on December 24th, TASS reported from the shipyard on Thursday. According to the shipyard's spokesperson, the lead ship, the Uragan, is to be commissioned by the Russian Navy in December 2017 and the first production ship, the Typhoon, in 2018.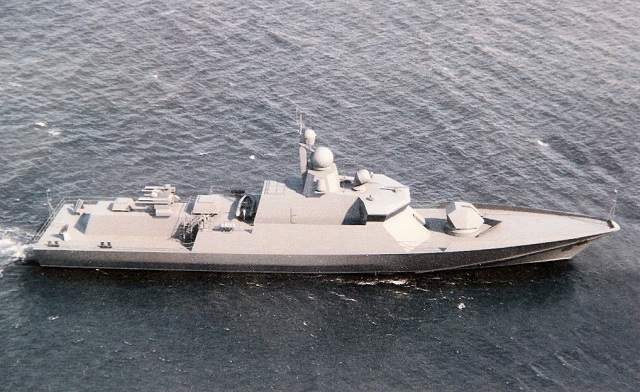 Artist impression of Project 22800 Corvette. Image via BMPD / Curious / forums.airbase.ru
"It is a drastically new ship to the Defense Ministry. It is just called small, but it is armed well enough, in fact. The Navy is awaiting for it," Deputy Defense Minister Yuri Borisov said, speaking at the laying-down ceremony.

Pella has been awarded an order for seven ships of the class, and a tender for building more of the same is being arranged for 2016, he added.

"The family is to be big. Much depends on how the early ships will perform," Viktor Bursuk, deputy commander-in-chief, armament, Russian Navy, stressed in turn. Over a dozen ships of the class are due for construction.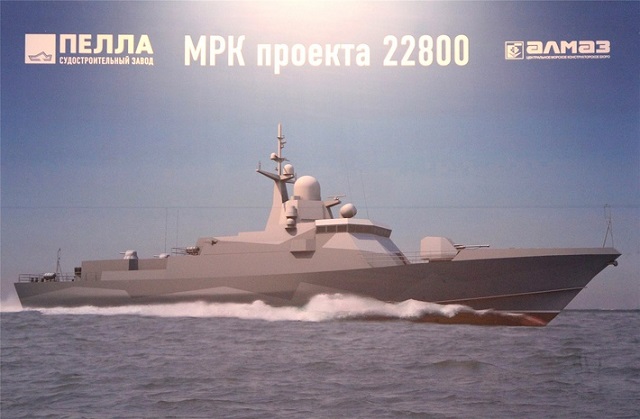 Artist impression of Project 22800 Corvette
The ships in questions are those developed by the Almaz Design Bureau. They have a displacement of around 800 tons and a speed of more than 30 knots and can operate at about 3,000 nm away from the base. The ships will mount a vertical launch system with eight Kalibr missile launch tubes, a 76-mm gun and 30-mm antiaircraft guns. The Project 22800 guided missile corvettes also are supposed to have an air defense missile/gun system down the road. Their endurance will be about 15 days. Their strengths include high maneuverability, enhanced seaworthiness and the stealth-increasing shape of the superstructure and hull.

"They are virtually on a par with traditional corvettes as far as navigability is concerned and comparable with them in terms of armament. They will be fitted with Kalibr missile systems, a very formidable artillery system and, in prospect, up-to-date air defense weapons," Borisov said.

Borisov mentioned plans to order seagoing corvettes in spring this year. Navy Commander-in-Chief Viktor Chirkov said in summer that the first ship of the advanced family would be laid down by year-end and that the Navy expected a total of 18 corvettes of the class. Probably, different shipyards will build them.

© Copyright 2015 TASS. All rights reserved. This material may not be published, broadcast, rewritten or redistributed.