a
Naval Forces News - Russia
Russian Navy New Mine Countermeasures Vessel Project 12700 Alexander Obukhov in Sea Trials
Project 12700 Alexander Obukhov lead mine countermeasures vessel (MCMV) has started technical trials, an official of the Medium Neva Shipyard, the manufacturer of the ship /incorporated by United Shipbuilding Corporation, USC (OSK)/ told the TASS correspondent.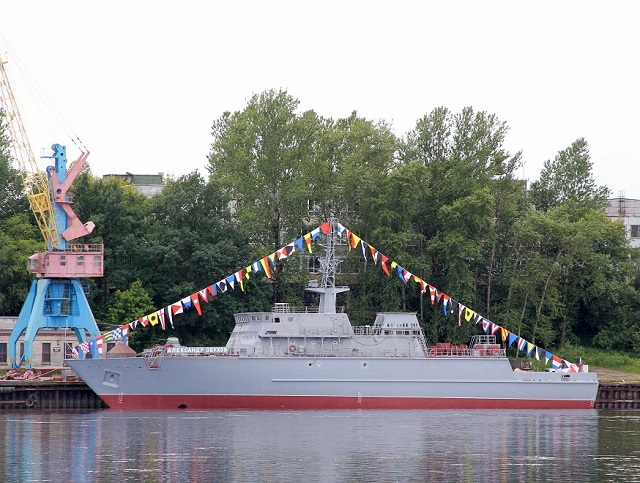 The Alexander Obukhov MCMV, first ship of its class (project 12700)

"On completion of this stage the ship will undergo acceptance trials. It should be borne in mind that the trials will test not only the sweeper's navigation performance, but also its equipment, including onboard highly efficient sonar stations located both on the ship and remote controlled and self-sufficient diving vessels, integrated bridge system, main command post - automatic anti-mine operations control system," the company officials said.

They also noted that the Alexander Obukhov is powered by engines built by the Zvezda plant of St Petersburg. Those will also be installed on such serially produced sweepers. Like any other equipment, those engines will be made from low magnetic steel.

In summer, Victor Chirkov, Russian Navy Commander, reported that in the next five years the Navy would receive four Project 12700 anti-mine defense ships. These sweepers got new equipment and have a monolithic hull from composite materials, which reduce the ships weight and increase its service life. It was previously reported that the Alexander Obukhov would go into service in 2015, but later on a source within the defense industry told TASS that due to a large amount of tests of the new anti-mine hardware, the ship would be handed over to the Navy in May 2016.

The Medium Neva Shipyard plans to build, starting in 2018, two such sweepers each years. The Russian Navy's total demand for this class of ships is estimated at 30 units. The company director general Vladimir Serdokho reported that starting from the fifth ship of the series the sweepers would be built based on an improved design.

Project 12700 anti-mine defense ships' displacement is around 900 t, length over 60 m, width 10 m, speed 16.5 knots. The crew is 44 men. The ship can use different sweeps for anti-mine operations, as well as remotely controlled and self-sufficient unmanned submersible vehicles.

© Copyright 2015 TASS. All rights reserved. This material may not be published, broadcast, rewritten or redistributed.