a
Naval Forces News - Russia
Russian Navy Future Frigate Project 22350 Admiral Gorshkov Completed 1st Phase of Trials
The
Project 22350 frigate Admiral Gorshkov
passed the first stage of its White Sea tests, Capt. 2nd Rank Andrei Luzik, acting chief, press office, Northern Fleet, told journalists on Friday.
"The tests have taken place at naval training areas of the Northern Fleet in the White Sea and Arkhangelsk Region,"
he added.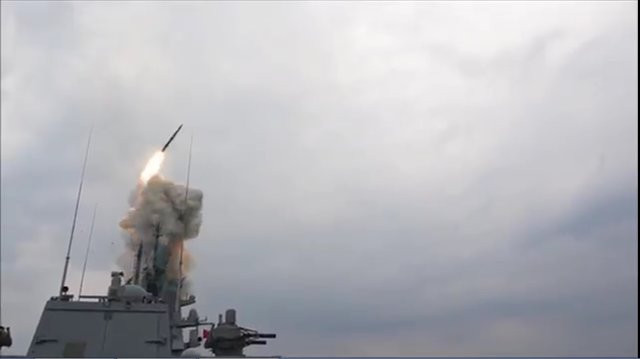 A missile is vertically launched from Russian Navy future Project 22350 class frigate "Admiral Gorshkov" during sea trials.

According to the officer, the firing tests took several days. The ship's artillery and missile systems, including the A-192 versatile gun, were tested in various operating modes and various cruise missiles were launched against targets in the White Sea and at the Chizha missile range, Luzik added.

The testing areas and missile range were sealed off, and the captains of ships and the port authorities in the White Sea were warned accordingly, the Northern Fleet acting spokesman stressed.

As was reported in the press, the Project 22350 frigate test-fired its cruise missiles against land-based and naval targets. The ship carries two 3S-14 vertical launch systems for 16 missiles used in the Kalibr system - 3M-14s (SS-N-30) for land attack and 3M-54s (SS-N-27 Sizzler) for surface ship engagement.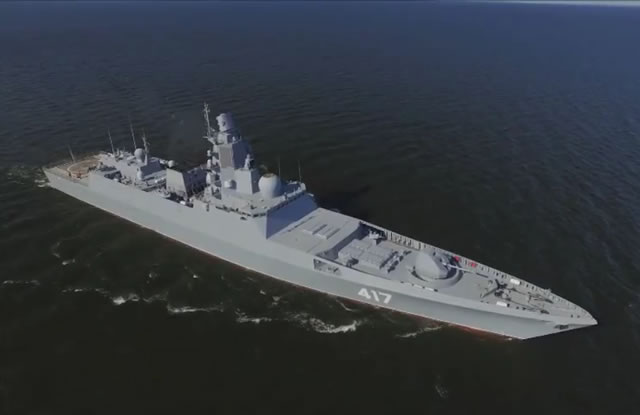 The "Admiral Gorshkov" during sea trials.

"The Project 22350 lead ship test program will continue. All of the frigate's systems and mechanisms will be subjected to stringent testing in various operating environments and modes, with the emphasis to be placed on its precision-guided weapons,"
the captain 2nd rank concluded.
It was reported previously that the Admiral Gorshkov would be delivered to the Russian Navy in 2016, rather than 2015, as was planned before. The ship was laid down early in 2006 and launched in the fall of 2010. It put out to sea for its official trials in November 2014.
The Project 22350 frigates are designed for antisurface and antisubmarine warfare throughout the ocean and for providing air defense both independently and as part of a formation. They have a flush-deck hull, a three-island superstructure, a tower mast and a steel funnel and embody radar signature reduction technologies making them next to invisible to enemy radars. A frigate in the class displaces about 4,550 tons and is 135 m long. It is powered by a 65,000-hp diesel/gas-turbine propulsion plant. Its weapons suite comprises the advanced 130-mm A-192 gun and antiship, antisubmarine and air defense missile systems, including the Kalibr and Redut-Poliment. The ship can carry a Kamov Ka-27 (Helix) helicopter or a derivative thereof.
© Copyright 2015 TASS. All rights reserved. This material may not be published, broadcast, rewritten or redistributed.


Link to
Admiral Gorshkov (Project 22350) Frigate technical datasheet