a
Naval Forces News - USA
Littoral Combat Ships USS Detroit (LCS 7) & USS Montgomery (LCS 8) to be Based in San Diego
The U.S. Navy announced the future littoral combat ships USS Detroit (LCS 7) and USS Montgomery (LCS 8) are scheduled to be homeported at Naval Base San Diego following their commissioning in summer 2016.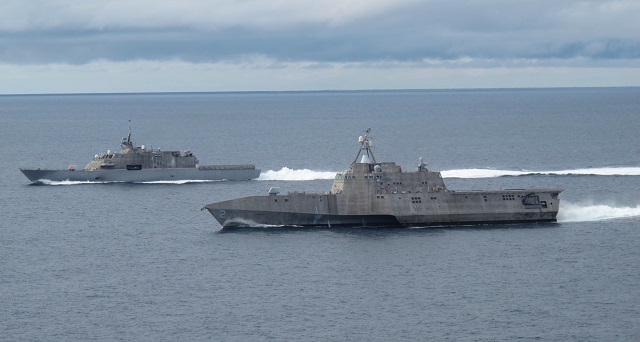 The first of class littoral combat ships USS Freedom (LCS 1), left, and USS Independence (LCS 2), maneuver together during an exercise off the coast of Southern California. (U.S. Navy photo by Lt. Jan Shultis/Released)
Detroit is a
Freedom-class littoral combat ship
being built at Marinette Marine Shipyard in Marinette, Wisconsin. Montgomery is an
Independence-class littoral combat ship
under construction at Austal USA shipyards in Mobile, Alabama.
The U.S. Navy continually monitors force readiness and ability to provide the most robust, capable maritime force possible. Stationing the littoral combat ships in a West Coast port supports the rebalance to the Indo-Asia-Pacific region, placing our most advanced capabilities and greater capacity in that vital theater. By 2020, approximately 60 percent of Navy ships and aircraft will be based in the region.
LCS design characteristics feature shallow drafts, networked sensors, and various mission packages, enabling them to perform a variety of missions near shorelines and in the high seas. This fast, agile, focused-mission platform is designed to defeat asymmetric "anti-access" threats found in the littorals such as mines, quiet diesel submarines, and fast surface craft, as well as being capable of open-ocean operations.