a
Naval Defense News - USA
U.S. Navy Continues Flight Testing APS-154 Advanced Airborne Sensor (AAS) on P-8A Poseidon
The U.S. Navy continues integration and testing of the first Advanced Airborne Sensor (AAS), designated the APS-154, aboard the P-8A Poseidon. Testing will confirm the ability of the P-8A and AAS to operate safely and efficiently. Successful testing of AAS on the P-8A is a significant milestone enabling production decisions and leading up to the initial deployment of AAS.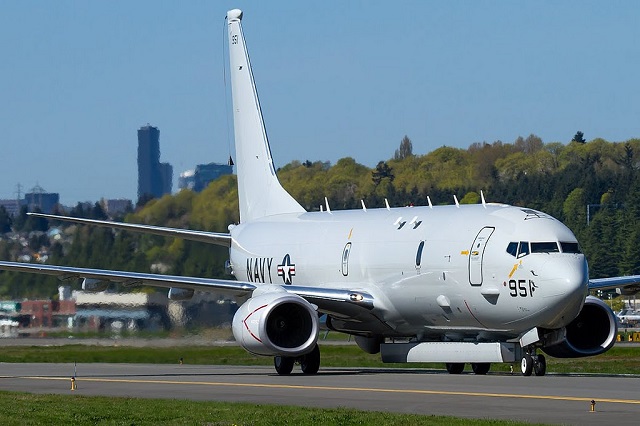 A U.S. Navy P-8A Poseidon maritime patrol aircraft was recently spotted at the Boeing headquarter's in Seattle conducting tests (including flight tests) with Raytheon's Advanced Airborne Sensor (AAS) fitted under the aircraft. Picture from bmpd.livejournal.com
AAS is an externally mounted radar and a follow-on system to the currently deployed Littoral Surveillance Radar System (LSRS). LSRS currently provides a broad range of capabilities against moving and stationary targets at sea and on land. LSRS is currently operational on U.S. Navy P-3C Orions. According to Raytheon, the AAS is an active electronically scanned array (AESA) radar system with next-generation line-of-site capability.
Like LSRS, AAS is an integrated Intelligence, Surveillance, Reconnaissance and Targeting (ISR&T) asset, with the additional capability of Mast and Periscope Detection (MPD). AAS employment will increase the Combatant Commanders' war fighting effectiveness by ensuring a situational awareness advantage, achieving information dominance throughout all campaign phases, and providing on-demand, actionable sensor data to support precision targeting against threats at sea and on land.


Link to P-8A Poseidon Maritime Patrol Aircraft technical datasheet
Spotter (OwnsGermany) video showing P-8A Poseidon flight test with the AN/APS-154