a
Naval Defense Industry News - India
Successful Maiden Flight of HAL LCA Naval Prototype 2 Aircraft for Indian Navy
The Naval Prototype (NP2) made its maiden flight on February 7 for about 35 minutes. Mr. T. Suvarna Raju, Chairman of HAL said dedicated efforts of engineers of Aircraft Research and Design Centre (ARDC) for the complex landing gear design, which is significantly different from the Air Force version made this flight possible.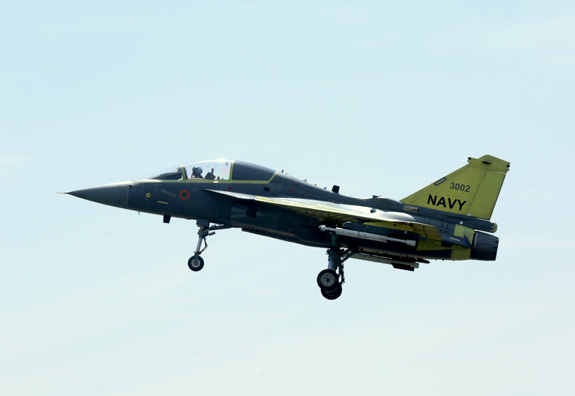 The Naval Prototype (NP2) made its maiden flight on February 7 for about 35 minutes. Picture: HAL
The flight was piloted by Captain Shivnath Dahiya, an experienced Test Pilot from Indian Navy with the National Flight Test Centre (NFTC). The launch was accomplished under telemetry control exercised by Test Director, Commander J D Raturi and Safety Pilot, Commodore J A Maolankar, the Chief Test Pilot of NFTC. The chase aircraft cover was provided by LSP2 piloted by Gp. Capt. Suneet Krishna (Retd) with the Test Director being Gp. Capt Prabhu and the Safety Pilot being Gp. Capt. RR Tyagi.

The design teams were guided by Programme Director ADA, Mr P S Subramanyam ensured that systems meet the stringent requirements of Carrier borne aircraft. The teams were ably supported by the Certification agency, CEMILAC and the Quality Assurance agency, CRI (LCA), Indian Navy, DRDO agencies, CSIR agencies (NAL & CSIO), other Public and Private Sector participants.

The event marks the growth of indigenous LCA (Navy) program, aimed to achieve Carrier Compatibility technology demonstration including arrested landing and ski-Jump take off, initially from the Shore Based test facility, Goa.

The success of maiden flight of NP 2 is a testimony to the efforts put in by scientists and engineers to enable flight of the first LCA Naval Fighter. With one trainer and fighter in its stable "the indigenous carrier borne fighter program is making headway snf acquiring momentum"

The ADA LCA (Navy) Programme Office, under Cmde C D Balaji (Retd) is exhilarated by the addition of NP 2 as a Flight Test platform. NP 2 has been built with vision and foresight. It addresses several systemic deficiencies observed whilst making progress on flight test of Naval Prototype 1. It incorporates most avionic hardware components promised to the customer, Indian Navy. During design and build NP 2 has been customized (Plug & Play) to incrementally accept modifications for Carrier Landing aids like Levcon Air Data Computer, Auto-throttle, external and internal Angle of Attack lights. NP 2 is the lead aircraft for arrestor hook integration, Derby Beyond visual Range missile and tactical data link. The inclusion of NP 2 into the LCA (Navy) flight test stable is a significant milestone in the indigenous Carrier borne aircraft development program.